By NewsLine Staff
mail@floridanewsline.com
Two of St. Johns County's finest first responders were celebrated on Tuesday, Jan. 31 in Nocatee as The Rotary Club of Ponte Vedra awarded its Firefighter and Sheriff Deputy of the Year medals during a ceremony at the Coastal Oaks clubhouse. The second annual Rotary Heroes Awards
event was presented by the Ponte Vedra Rotary Foundation, the club's charitable arm. In addition to the many Rotarians, family and friends of the honorees who attended the event, Sheriff Rob Hardwick and his wife Kendell were in attendance, as was St. Johns County Fire Interim Chief R. Scott Bullard. Members from the command staff of both agencies, fellow co-workers, and the 2021 Rotary Heroes attended the celebration.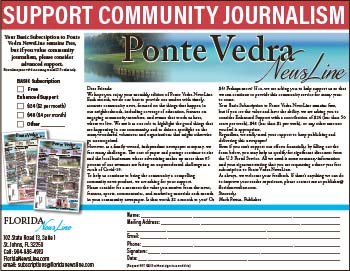 Lieutenant Mike Pepper is the 2022 Rotary Hero Firefighter of the Year. Pepper represents St. Johns County Fire Rescue Station No. 18 in Nocatee. He was nominated to lieutenant within five years of being with the department, and now has a 20-year career under his belt. Pepper is a father of four (as well as a future grandfather) and enjoys mentoring the next leaders in the department. Captain Shawn Vitori, who nominated Pepper for the award, said, "Lieutenant Pepper puts absolutely 100 percent into everything that he does, and does so to the highest standard."
Senior Deputy Nate Datsko is the 2022 Rotary Hero Deputy of the Year. Datsko represents the St. Johns County Sheriff's Office (SJSO) Delta Northeast sector. He's been with the SJSO since 2000 and is a 29-year veteran of law enforcement. Datsko is the father of six children, and works as a traffic homicide investigator as well as a DUI enforcement deputy with the Traffic Unit. Nominating Sergeant Scott Yeoman said, "Senior Deputy Nate Datsko has always gone above and beyond the call of duty. He has a genuine passion for protecting our citizens."
The Rotary Heroes awards honor first responders who display excellence in their profession, high ethical standards and demonstrate the Rotary motto of "Service Above Self."
Visit www.pontevedrarotary.com for more information about the Rotary Club of Ponte Vedra.
Photo courtesy Rotary Club of Ponte Vedra
Senior Deputy Nate Datsko and Lieutenant Mike Pepper.