By Mims Cushing
mail@floridanewsline.com
On the Fourth of July weekend (Saturday) I invited a friend for tea. "Would turkey, cheese and avocado sandwiches be OK?"
Robert wistfully replied, "I was hoping for chocolate."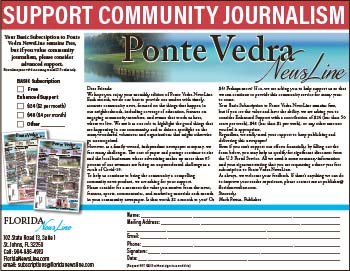 I haven't ever had chocolate in this house. I imagined my home swooning over the smell of the chocolate I would buy for Robert. Years ago, in a different house, Amos, a former mini poodle of mine nosed his way into a gigantic chocolate Kiss (eating foil and all) and survived, so I was smart enough to put Robert's chocolate treats up high in case my current dog, Lily, would eat it. Dogs are not supposed to eat chocolate.
I was not so smart Sunday, the next day. I called a friend and invited him over for a barbecue. I decided to go with burgers and franks. Leaving couple of hot dogs and three frozen Angus beef patties to defrost on the counter, I went to the store to get corn, buns, etc. Halfway through my shopping expedition, I froze. Would Lily get into the plastic-wrapped, frozen meat and eat it? She most certainly would.
I came home, flung open the door to the kitchen and … no sign of burgers on the counter.
The hamburgers were eight ounces each. How could my bichon eat 24 ounces of beef? A huge percentage of her 10 pounds.
"Lily, you are a bad dog!" She stared at me with her huge eyes, smiled and wagged her wail. It was saying, "I know I'm bad, Mommy. But it was worth every bite."
Foraging for food in my new home, my chow hound hoists herself onto the chair in the eat-in kitchen, and from there onto the bar stool. Voila! She can get on the counter. Isn't that gross? She couldn't do that in my former house. I spend hours de-bacterializing my counter. I'm going to cover it with aluminum foil and see if that stops her. (It hasn't.)
She'd eaten 20 percent of her weight. Translated to humans, a person of 100 pounds would have to eat 20 pounds to equal what Lily downed in 30 minutes. A 200-pound human would have to eat 40 pounds to match what my tiny bichon had eaten.
And of course I had the nuisance of having to get meat for the BBQ. She didn't eat the hot dogs, I guess, because they were low fat. Or she didn't like the brand.
Returning from my second foray to the grocery store, I went into the sitting room and there, on the floor, were two pristine patties, one on top of the other—no teeth marks—semi frozen. Why had she dragged them in there? I wondered if she had freezer-burn headache. Maybe she decided burgers were not worth the pain. Somebody later suggested I could have just barbecued the patties I'd found on the tile floor. Ummm… I don't think so.
That next morning I walked gingerly around the house looking for a doggie hot mess, but there were none, thank God. I decided to celebrate with a small peanut butter flavored shake and frozen grapes. Lily was prancing about, rocking from one paw to the other and smiling at me. Clearly she smelled the peanut butter and wanted some.
My Sunday guest just wanted fruit for dessert, not chocolate, so I didn't have to worry. Lily wouldn't be caught dead eating fruit.
Mims (Marguerite) Cushing came to Florida from Connecticut in 1991. She has been a professional writer for more than 35 years, writing features for her hometown paper in Stamford, and also for a dozen local and national magazines. After moving to Northeast Florida she wrote book reviews for the Florida Times-Union and a lifestyle column for the Ponte Vedra Recorder. Her books have won awards from the Florida Writers Association and she has taught creative writing to children and adults. An avid reader, Cushing enjoys being the "librarian" of the Players Club Senior Center and singing with Singers by the Sea.