By Angela Higginbotham
angela@floridanewsline.com
Originally from South Carolina, Reverend Kimberly Hyatt grew up on a beautiful farm surrounded by family. Hyatt earned her bachelor of science degree from Presbyterian College in Clinton, S.C. and went on to receive her masters in religion from Princeton University. After her completing her studies at Princeton Seminary, Hyatt moved to Jacksonville in 1996, where she served as pastor at South Jacksonville Presbyterian and Peace Presbyterian churches. Reverend Hyatt also served on the board of directors for both Hubbard House and Community Connections. Hyatt moved to Ponte Vedra in 2005. She and her wife, Jane, enjoy living in The Plantation.

Prior to divinity school, Hyatt was a business lobbyist in Washington, D. C. Employed by the Food Marketing Institute, Hyatt represented the interests of the nation's food retailers and wholesalers before Congress. An award winning writer, Hyatt spent a short time as a reporter, during which she won the South Carolina Press Association's award for Best Feature Story.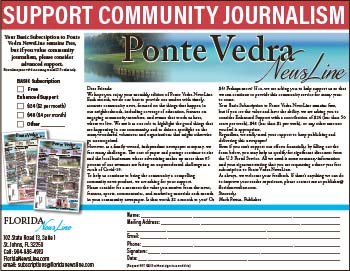 Always willing to give back, Hyatt currently gives her time as president of the Trustees for the Presbytery of St. Augustine as well as on its Permanent Judicial Commission. Hyatt also serves on the board of governors for the JAX Chamber, downtown Rotary and the Jacksonville Women's Network. For more than 15 years, Reverend Hyatt has served as the president and CEO of Cathedral Arts Project in Jacksonville. She is passionate about serving as a leader in the national arts-in-education movement, as well as her local civic involvement.
What do you enjoy most about living in Ponte Vedra?
I work downtown, so it's refreshing to come home every day. It's just a gorgeous community with the trees and water. I give thanks every day that I can call Ponte Vedra home.
What do you feel is your greatest accomplishment?
I'd say my 15 years with Cathedral Arts Project (CAP). Over the years we've played a huge part in the community. We've moved the needle and helped put art education on a lot of people's radar.
Do you have any upcoming goals for Cathedral Arts Project?
We are continuing to expand programming, particularly with the special needs students. Arts play a big role in the lives of these special students.
What do you enjoy doing in your spare time?
I'm a workaholic. I am an avid reader of nonfiction. I may have 12 books going at one time. I adore twitter, I would pay for twitter. I like to play piano and I have recently found a love for bird watching.
If you could spend the day with anyone who would it be and why?
I would like to spend a day with Maya Angelou. Her poetry and stories really got me through some tough times and I find her to be a really inspiring person.
Photo courtesy Cathedral Arts Project
Kimberly Hyatt and a Cathedral Arts student.