By Tiffany Merlo Phelps
mail@floridanewsline.com
Judy Tenbroeck's childhood did not include a television, a phone or any modern conveniences that most folks take for granted such as hot running water. From the age of four until college, Tenbroeck lived with her family in Papua New Guinea. Her parents worked as Wycliffe linguists who translated the Bible into a written language, essentially creating an alphabet, teaching the villagers to read, write and to ultimately learn the Bible. Tenbroeck and her four siblings lived in the missionary children's home and attended the mission school. Despite the remote area, Tenbroeck, who is an operating room nurse at Baptist Medical Center Beaches, has only good memories of her upbringing. She described her life there as blissful, filled with strong friendships, sports, music and devoid of social frictions.
Tenbroeck's interest in nursing began as she watched her mother read medical books while trying to help villagers seeking aid for many ailments. When she was 13 years old, Tenbroeck found out that one of the missionary staff members, an elderly woman, had a stroke and was alone for three days before anyone found her. It was at this moment that Tenbroeck decided that she wanted to become a nurse and to take care of her parents one day. She made a promise to God that if He let her become a nurse, she would do just that. Her course was set.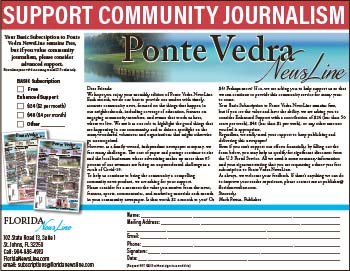 Q: Where did you attend college?
A: I attended Biola University in California. I wanted a five-year program because my parents went on five-year missions, and I wanted to finish at the same time. The university was near downtown Los Angeles, so I went from the native village to a very big city environment. It was a huge culture shock for me. I didn't know how to drive, and I wasn't even used to having a long hot shower. Once I finished the nursing program, I moved to Jacksonville Beach because my brother lived there, and I wanted to be near family.
Q: What brought you to Ponte Vedra Beach?
A: I moved onto 15 acres in the area with my late husband, Stuart Tenbroeck. It is called Deer Run Ranch. I was a mountain girl and wanted to go to Tennessee or anywhere with season changes. So, Stu planted hundreds of deciduous trees all over the ranch and said "I'm bringing you the mountains" — a romantic gesture.
Q: How did you learn to work a ranch?
A: I owe my love of ranching to Stu. He taught me everything that I know to live on a ranch. There was no man like Stu. He could do everything. He would say "Judy, listen to me, you will need to know this." And I did. He prepared me for everything.
Q: You mentioned that your late husband, a former St. Johns County deputy, and your late father both suffered from dementia. Talk about this experience.
A: Stu had a severe form of dementia known as "Lewy Body," comparable to a combination of Alzheimer's Disease and Parkinson's Disease. The life expectancy for someone with Lewy Body is five to seven years. Stu lived for 11 years. He was bedridden for six years. I felt that God wanted me to take care of him at home. When Stu was at his worst, I cried out to God and said "Please don't make me go through this." I clearly heard God say to me that I would lose Stu physically, but that I would see his true spirit. And for those last six years, he was the sweetest Christian. He was amazing. He passed away in 2016. A year later, my dad showed signs of dementia, and my parents moved in with me. My dad passed at the age of 95 in 2020. My mom continues to live with me. And my promise to God at the age of 13 to take care of my parents was fully realized. Without God, I could not have taken care of Stu or my dad.
Q: You have plans to board horses on your ranch with a special goal in mind. Please share.
A: It is a gift from heaven to have the quietness of a ranch. I personally saw the benefit of this peaceful environment for my husband and father. If a person with dementia has too much stimulation, it can be a disaster. I am currently boarding two horses, and I would often take my husband and father on golf cart rides to look at the horses, Poppy and Chief. We also have 25 chickens and two goats. This was so calming to them. I would like to board two more horses at the ranch so that people with dementia could come with a caregiver and enjoy a day out. If anyone is interested in being interviewed to board a horse here, please email me at judy.tenbroeck@gmail.com.
Photo courtesy Judy Tenbroeck
Judy Tenbroeck