By Tiffany Merlo Phelps
mail@floridanewsline.com
Lauren Blocker initially planned to pursue medicine in college, majoring in Environmental Science and even taking the Medical College Admission Test. "However, I still felt the pull of a legal career and ultimately decided to go to law school," said Blocker, now a recently appointed St. Johns County court judge. Blocker's attraction to the law came to her organically with her grandfather, aunt, stepfather and her mom all working as lawyers. And while her father died before she was born, his stellar reputation as a lawyer left its mark on Blocker, 37. "I keep that memory in my mind always. I hope they are both proudly looking down on me," said Blocker, whose grandfather passed away in 2010. A picture of her grandfather sits in her office as a reminder of his influence, and she carries her father's briefcase (her uncle saved it and had it refurbished for her) with her to work every day. "I understand that it is a huge responsibility, and I take it very seriously. I am excited to get to work," said Blocker, who is with the Seventh Judicial Circuit representing Flagler, Putnam, Volusia and St. Johns counties. She began her judgeship Oct. 11 after the Florida Legislature created the additional county judge position. St. Johns County officials favored this added position because of the tremendous population growth in the area, which put a strain on the court system. Appointed by Gov. Ron DeSantis, Blocker is the third county judge to be appointed after the state law was created (the last time such a position was added in this area was in the 1970s). Blocker was previously working as corporate counsel to Fidelity Information Services.
Q: How did you get interested in the law?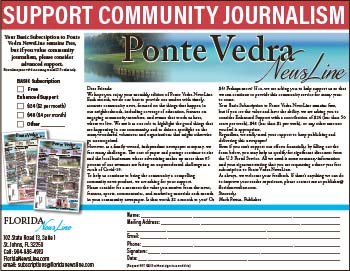 A: I have always been interested in the law and had a great respect for it. I liked the fact that we have one set of laws, and we are all treated the same under these laws. I have always had a strong desire to serve, and this is my chance to do so as a neutral arbitrator. I was incredibly humbled to be chosen and excited to be the representative of the citizens.
Q: You attended the University of Florida for your undergrad degree and Florida Coastal for your law degree. Talk about your college experiences.
A: I had a great college experience at the University of Florida. I became a fan of college football, met my best friend (my husband), and learned the Italian language. I also had a good experience in law school, participating in moot court, law review, and a variety of different externships, with the judiciary as well as a law firm that practiced environmental law. That was initially the area of the law that I was interested in given my college major.
Q: You served as a judicial law clerk. What did you learn from this experience?
A: I served as a judicial law clerk to U.S. Magistrate Judge Carol Mirando, U.S. Magistrate Judge Patricia D. Barksdale and U.S. District Judge Marcia Morales Howard. I really enjoyed working on as many different areas of the law as possible. It was a unique opportunity to see the court from inside the chambers. It gave me a 360-degree view of the legal system. I think I have had an atypical trajectory to the bench, but all of that experience helped me. I learned so much from all these role models. That's what I am most excited about now — having the chance to serve as a county court judge, hearing both civil and criminal cases.
Q: You are married to St. Johns County Commissioner Jeremiah Blocker. How did you meet?
A: He was actually the first person that I met when I moved into the apartment next door to him my first year of college at Florida. We used to stay up on his porch having long conversations, and our relationship grew from there.
Q: What was the best advice that you got from your grandfather?
A: Be true to yourself always, present yourself accurately and remember that your reputation is everything. Most of this I learned simply by watching my grandfather and witnessing his hard work ethic. My personal belief is to always try to do your best with what you have.
Photo courtesy Lauren Blocker