By Tiffany Merlo Phelps
mail@floridanewsline.com
Sam Brimhall first became interested in golf at nine years old when her older sister was on the high school golf team.
"The golf swing came 'natural' to me, and I became decent at the game fairly quickly," said Brimhall. "Around age 10, I started playing in tournaments and from there, golf became my thing."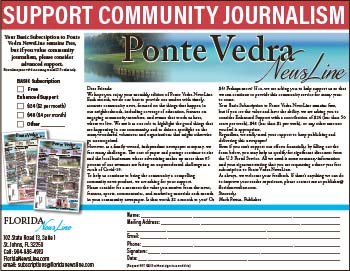 Brimhall went on to play golf at Seminole State College under Coach Christa Teno. After two years of eligibility at the junior college level, she transferred to Jacksonville University to play her two final years under Coach Kathryn Dougan.
Last year, Brimhall, 23, interned as a sponsorship coordinator and general tournament support staff member for the very first PXG Women's Match Play Championship at World Golf Village. She is ready to do it again next month as the tournament returns to St. Johns County for its second year.
Brimhall now works as a brand consultant for CAA Sports in the golf department, helping clients activate and endorse their brand through relationships with the PGA TOUR and other affiliated golf brands. She credits PXG with helping her to be a professional in the golf business.
"I can't say enough about how this tournament/tour has impacted me. Watching this tour grow from the ground up has shown me that any dream is possible. It has also shown me that people do care about women's sports," said Brimhall. "We have a long way to go, but I know that more initiatives are taking place to provide women/girls more playing opportunities in all sports."
Last year, Mark Berman, managing partner of MediaShare Consulting Group and in the golf industry for 25 years, created the first ever professional women's golf tournament in St. Johns County and the first in Jacksonville since 1976.
Now in its second year, the PXG Women's Match Play Championship will take place Nov. 1 through Nov. 6. It is part of the East Coast Women's Pro Golf Tour, one of only three US women's developmental tours for women and based in Ponte Vedra. The PXGWMPC is open to all women professional players and also to elite level amateurs.
The event features 84 of the world's best non-LPGA players starting in a two-stroke play qualifier from which 64 will advance to the Pod Play Battle Rounds. The winners of each Pod will advance to Sweet 16 of the traditional Match Play Knockout Rounds.
The "Generation W Links to Leadership Summit" will take place on the day off between stroke play and the Battle Rounds. Generation W is a non-profit located in Jacksonville Beach that is dedicated to lifting up women through leadership development, connection, inspiration and education. The summit is being presented by Baptist Health and Circle K. Investing in Kids (INK!), which raises money for underserved public schools in St. Johns County, is the tournament benefactor and the official charity partner. Last year, INK! raised more than $50,000 through the Pro-Am, its biggest single-day fundraiser.
This year's Pro-Am will be held at the World Golf Village Slammer & Squire course on Monday, Oct. 31. The event is sponsored by Founding Partners Murgado Automotive Bentley & Maserati of Jacksonville, SQAIRZ Golf, Access Golf and Baptist Health.
For Berman, this event is all about creating opportunities for women in golf, in the community and in the golf industry.
"It is not a knock against the guys. It is just how do we create more playing opportunities and eventually earning opportunities for these young women so that they can get to their next level," he said.
Pro golfer Sofia Garcia, 24, said she enjoyed her time at PXG last year. She was paired with Dr. Scott Fechter in the INK! Charity Pro Am, and the two struck up a professional relationship with Fechter's practice, Pain Relief Center, becoming Garcia's lead sponsor.
"It was just an overall good experience," said Garcia, who is actively pursuing her dream to be in the LPGA Tour. "It was about more than just golf."
Garcia, who is from Paraguay and played golf at Texas Tech, said she especially enjoyed the Generation W Leadership Summit and the opportunity to find support and fellowship.
"Golf has shaped me as a person and has shaped my life. I have so many great memories on the golf course and off," said Garcia, who began playing golf when she was eight years old. "We judge ourselves based on our performances, but we are more than that."
For more information about tickets, the INK! Charity Pro Am and the Spooktacular Junior Clinic, visit www.PXGWMPC.com. Follow Garcia's US Women's Open Journey at www.USGA.org.
Photo courtesy Mark Berman
Sofia Garcia at US Women's Open