By Martie Thompson
editor@floridanewsline.com
Helping Hands of Nocatee rounded up neighbors of all ages to help clean up Mickler's Landing Beach on June 25. According to board member and event facilitator Jill DAmato, the final count was 76 participants who picked up trash on a beautiful summer Saturday.
"We had a great turnout," DAmato said. "Ages ranged from small children in carriers to a grandmother."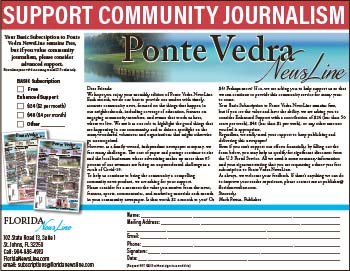 Neighbors, who learned about the event either via word of mouth, emails or social media, met at Mickler's Beach to check in at 8:15 a.m. Organizers broke participants into groups and they fanned out along the beach in both directions as far as the eye could see.
The group that collected the most trash, which was determined by weight, was given the Trash Buster award. According to DAmato, the most common trash picked up was food wrappers, but participants also found bricks, pieces of wood and a toddler's shoe.
At 9:45 a.m., everyone gathered for the award ceremony.
"Young children received a volunteer certificate, teenagers earned service hour letters and adults were given a pat on the back," DAmato said.
Helping Hands of Nocatee board members get together and plan events for each month. DAmato said they try to balance activities so that there is something for all ages as well as events requiring the donation of time and events requiring the donation of goods.
"We think it is important to allow kids to see the value of serving their community when they are little," DAmato said.
The group decided on the beach cleanup for the month of June because it was something all ages could help with and it was easy and informal — perfect for summer.
"Everyone can pick up trash," DAmato said.
Events scheduled through the end of the year include serving dinner to residents of St. Francis House in St. Augustine on August 13, a "Never Forget" event where the group will bring a decorated banner and provide dinner for all three shifts at the Nocatee Fire Station on Sept. 11, a collection for items on Wolfson Children's Hospital's wish list in October and volunteering at the Psych Ed Connections Turkey Trot and Thanksgiving Day Parade to be held at Nocatee on Thanksgiving day.
Visit www.facebook.com/helpinghandsofnocatee or email helpinghandsofnocatee@gmail.com to learn more about this philanthropic group of Nocatee residents.
Photo courtesy Jill DAmato
Helping Hands of Nocatee participants cleaned up Mickler's Landing Beach on June 25.