By David Aaro
mail@floridanewsline.com
Over the past 16 years, the SenioRITAs have helped raise almost $1.5 million for local breast cancer research at Mayo Clinic and patient services at Baptist Beaches. Through their signature women's doubles tennis tournament, their live and silent auction and kickoff party, the group hosts one of the largest charity events in Jacksonville. These events coincide with Breast Cancer Awareness Month in October.
Chuck Jantz started the RITA ("Research is the Answer") Foundation in 1997. After hosting the fundraising tennis tournament in Jacksonville for three years, it was moved to Sawgrass. The name of the tennis tournament became SenioRITAs upon its move to Ponte Vedra Beach.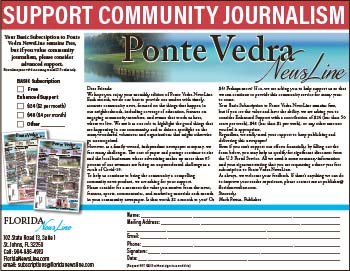 The kickoff party at Pusser's Caribbean Grille on Oct. 11, 5:30 p.m. – 7 p.m begins this year's festivities. The entry is $25 and includes two drinks and hors d'oeuvres.
The second event is the live and silent auction, which takes place at Sawgrass Country Club on Oct. 19 at 6 p.m. Some of the auction items include autographed flags signed by Arnold Palmer and Jordan Spieth and a trip for four to Oregon. Bids for the silent auction this year will be via pen and paper instead of online like the past few years. The live auction promises to be entertaining.
Jantz said, "People want to socialize and enjoy the atmosphere of live action. The best one we had last year was a husband versus a wife, but of course the wife always wins."
The main event is the three-day tennis tournament that will be held Oct. 21 – 23 at the Sawgrass Racquet Club with more than 300 women from all over the north Florida area and out of state participating.
"It's sold out every year. We just opened online entry on July 31 and I already had calls the week before asking when folks could register," Jantz said.
When the SenoRITAs came to Ponte Vedra, their committee had 12 people and they raised roughly $26,000 in their first year. The next year they introduced the silent auction, which has been a big fundraiser ever since. Now the committee consists of 28 people and they raise about $80,000 – $100,000 each year.
"There was enthusiasm to create the event and people jumped in who cared. Over the years it kept growing and the auction and party continued to grow. We max out of people at the tennis because we want to keep the events local and are limited in the amount of courts," Jantz said.
Unlike donating to other national organizations, all the money raised goes into local research and patient services. Money sent to Baptist Beaches is allocated for patient services, such as helping to pay for mammograms for women who can't afford one. Donations given to the Mayo Clinic go directly towards the research of Dr. Al Copland. Over the past five years the SenoRITAs have contributed $250,000 to his work and research.
"We support his lab which works towards researching triple negative breast cancer. We invite him to the auction where he gives an update on what he's doing. This shows people where the money is going," said Jantz.
Jantz believes people support the RITA Foundation because of the transparency of the organization as well as connections to those affected by cancer in their lifetime.
"I can't convince you to support cancer when your passion is heart disease. We want to try and find people that are interested in supporting their mission of fighting breast cancer in an organization that has basically no overhead. We are as lean and mean as you get," Jantz said.
Visit www.the-rita-foundation.org/senioritas to sign up or for more information.
Photo courtesy Leigh Cort
The SenioRITAs committee.