By Martie Thompson
editor@floridanewsline.com
Lifelong animal lover Lisa DiDonato's future was influenced greatly by what she saw when volunteering at an animal shelter in her home state of New Jersey. Cats were in cages and a dog that she was particularly attached to had to be euthanized. When the opportunity arose for her to run her own animal shelter, she knew she didn't want to repeat either of these scenarios.
DiDonato opened Love Me True Rescue, reflecting her love of felines and Elvis Presley in April 2018, shortly after the closing of a similar shelter, Katz 4 Keeps, where she volunteered. A number of the other volunteers came to her and asked if she would start another cat shelter and she decided to go with her heart. The facility at 5150 Palm Valley Road officially opened its doors in September 2018.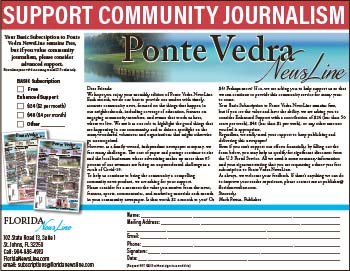 "Our true mission is to rescue cats from high kill shelters," DiDonato said. "I also have a sensitivity to feral kittens that I just term as 'shy.' I try to socialize and rehabilitate them."
Presently, Love Me True cat rescue has approximately 15 cats ranging from kittens to adolescents to adults living in the bright, clean, and cheery shelter. Another six are in foster care. DiDonato said they just rescued nine felines from Palatka because that shelter doesn't have adoptions. In addition to taking these cats to try to find them forever homes, Love Me True Rescue is a true partner with the Palatka shelter and brought them food and dog bones.
"Due to our space, we have to keep our numbers down, especially for rescues," DiDonato said. "I want to give all the cats quality care and love with no stress for the animals."
To that end, the facility is mostly cage-free, with the exception of the isolation room where cats go first for observation and to receive medical care. After that, they live in spacious pens and cats of the same litter can live communally in one of two large rooms equipped with a variety of cat-friendly beds, hiding places and cat trees on which to climb and explore. A plug-in "aquarium" with attractive fake fish provides stimulation, as do the windows with ledges.
Volunteer coordinator Peggy Hatfield said that the rescue facility is completely run by volunteers. There is a vet tech, a vet tech support person, a CPA and a treasurer, along with a foster coordinator and 40 to 45 "clean and feed" volunteers.
"We are always looking for volunteers, particularly for the clean and feed," Hatfield said. "Clean and feed takes place each morning and evening. Each volunteer does one shift per week, which lasts about two hours."
She said another volunteer opportunity is a socializer. These are kids between the ages of 12 – 17 who come to the shelter to play with the cats and get them ready to be adopted. Socializers earn community service hours.
As a 501 c 3 organization, Love Me True Rescue relies on donations of goods (kitty litter is always needed) and money from sponsors and other fundraisers. Pet Supermarket in Ponte Vedra Beach graciously hosts an ongoing food drive for them.
Adoptions are held on Saturdays from 11 a.m. – 3 p.m. or by appointment if necessary. An adoption counselor is on hand to ensure that the cat and the human adopting are the right fit.
"Our goal is to get the cats adopted out to the right home," Hatfield said. "We don't want them returned. We want people to understand this is a forever decision and that the animals should become part of their family."
DiDonato said they are pleased to have generally busy adoption Saturdays, which provides space in the shelter to rescue new cats.
"Unfortunately, we are unable to accept drop-offs, but would love for folks to visit us and find their feline soul mate," DiDonato said.
Visit www.lovemetruerescue.com or www.facebook.com/lovemetruerescue/ for more information about donating or adopting.
Photo by Martie Thompson
Chloe (asleep in teepee) and Kleokatra enjoy their surroundings at Love Me True Rescue, but would prefer a forever home.