By Angela Higginbotham
angela@floridanewsline.com
Nocatee residents recently kicked off the new school year with the second annual Nocatee Community Resource Day held in the community's Crosswater Hall. In an effort to prepare and encourage children for a great experience in the upcoming school year, school administrators and principals, law enforcement, and various non-profit organizations provided parents information on their area of expertise. While parents attended presentations, children were able to enjoy outdoor activities with staff and volunteers at the Splash waterpark.
"This is an event to bring together the community to have a serious conversation on the social aspects of what goes on with our kids today. It's a positive moment before school starts to just focus on the kids and become more educated as a parent," said Denver Cook, chairman of the PACT Prevention Coalition.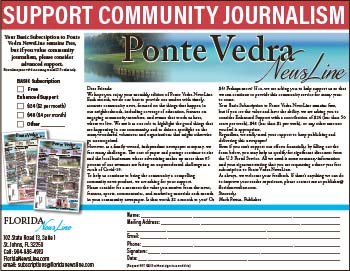 The meet and greet with principals included Valley Ridge Academy, Ocean Palms Elementary, Landrum Middle School, Nease High School, Bartram Springs Elementary School, Twin Lakes Academy and Atlantic Coast High School. Educational presentations by the sheriff's office informed parents of several topics, including the laws that affect children, consequences of texting and social media, as well as internet safety.
"There are real issues with drugs and alcohol going on around our kids. This resource night is just a positive approach to being as prepared as possible for things that a child may face and how we can help them stay on the right path to success," said Cook. "We all need to be looking out for each other's kids."
The event was hosted by the Nocatee Community Development District. Non-profits also joined in for short presentations for parents. EPIC Behavioral Health, Tobacco Free Florida, and the DePaul School of Dyslexia contributed their time and resources to the fun and informative event. These non-profits also spent time answering questions from parents and guardians in the community.
Photo courtesy Nocatee CDD (Community Development District)