By Sara Bolden
mail@floridanewsline.com
On Nov. 22, students in Diane Buckner's third grade class at Palm Valley Academy put on a very special experience for a "Grand" group of people at Buckner's annual "Grandperson Celebration." The celebration, now in its 13th year, is aimed at honoring special people in the children's lives — from grandparents, to extended family, to neighbors, to parents.
Prior to the celebration, each student learned how to properly request and conduct an interview, including how to select appropriate interview questions, how to record answers, and how to exhibit proper interview behavior (such as active listening and making eye contact). After conducting their interviews, the students prepared a report on their grandperson, including information from the grandperson's childhood (such as their favorite subject growing up and what kind of grades they received in third grade). The reports were then displayed in a colorful mural outside the classroom that the honored guests could explore prior to the celebration.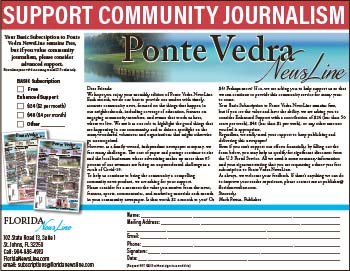 At the start of the celebration, the children, dressed up for the occasion, escorted the grandpersons into the classroom and presented their honored guest with a beautiful fall-colored mum. The children and guests then rotated through various activities, including a reading station, keepsake craft station, and a photography station. After the stations, the honored guests returned to their assigned seats where the children served them a breakfast of tea, croissants, and fruit. During breakfast the children put on a wonderful show consisting of poetry and songs. Afterwards, the grandpersons each received a surprise raffle prize to take home (such as candles, blankets, and cookies). The celebration concluded with each child individually serenading their grandperson to the song "You'll Be In My Heart." At the end of the morning there was not a dry eye in the house.
This special celebration is the brainchild of Diane Buckner, a Ponte Vedra Beach resident who has been teaching for almost 25 years, including the last 14 years in St. Johns County. Although the celebration requires a lot of work behind the scenes, Buckner — who has been recognized in the past as a Teacher of the Year — said it is all worth it in the end. Parents of children in her class agree.
Photo courtesy Sara Bolden
Diane Buckner and her class.