By Tiffany Merlo Phelps
mail@floridanewsline.com
Often referred to as "Not Your Average Boat Parade," the Palm Valley Boat Parade is set to make this year's annual holiday tradition the best one yet on Dec. 4 at 6 p.m.
"We had a great time last year, and we are expecting fantastic things this year as well," said parade coordinator Beacham Still. "This is a beloved annual tradition that is very unique."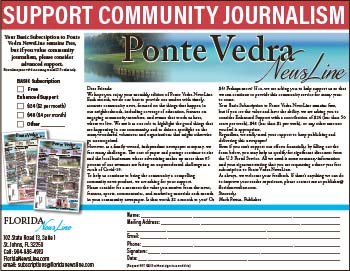 Capt. Bob Brindle, who has been driving boat No. 77 in the lighted boat parade for the past 21 years, agreed.
"I am working on the boat, and I am very excited as this is one of my favorite boat parades in the area," said Brindle, adding that the interaction between boats and people on the docks adds to its charm.
The parade will begin at 6 p.m. and start at Marker No. 3 just south of the Palm Valley Bridge. From there, the procession will continue north and is anticipated to reach Marsh Landing around 8:05 p.m. – 8:30 p.m. Brindle, who is on the lead boat, said live updates on pacing and expected arrival times at various landmarks will be given out as well. Water safety assistance is also provided during the event by the St. Johns County Sheriff's Office, St. Johns County Fire Rescue and Florida Fish and Wildlife, Brindle said.
Wendy Patton, parade co-chair, said the best places to view the parade are the restaurants along the seven-mile boat route of Palm Valley's Intracoastal Waterway: Palm Valley Outdoors, Barbara Jean's On the Water, Palm Valley Fish Camp, Lulu's Waterfront Grille and Valley Smoke. Also, Mickler's Wharf and under the Palm Valley Bridge are perfect public viewing locations, she said.
Cash prizes will be given to boat winners in different size categories and to the best decorated docks.
"We blow the horn a lot," said Brindle, who also participates in Jacksonville's Light Boat Parade. "To me, the Palm Valley Boat Parade is more fun than any of the other parades around. It is open to anyone — you don't have to have fancy decorations. You just come out and enjoy yourself — boaters and spectators."
Still said typically 20 to 30 boats participate in the parade, and this year is looking strong with a lot of new boat owners who will participate for the first time. The pandemic caused many people to look for outdoor activities, which resulted in more boat owners in the area, he said.
"We are always looking to expand the event in such a way that it allows for continuity and growth," said Still. "The parade's real mission is to support the community by creating scholarships for local high school students at Ponte Vedra and Nease."
He added that the parade is funded by generous participants, businesses and neighbors, and it also benefits the Palm Valley charities via the Palm Valley Community Association board.
"We like to give back to our local communities," said Still, adding that he is interested in finding a title sponsor for future boat parades.
The deadline to enter a boat in the parade is Dec. 1, and the awards ceremony will be held on Dec. 12. For more information, visit palmvalleyboatparade.com or look for parade updates on their Facebook group page www.facebook.com/groups/Palmvalleyboatparade. Still can be reached at bstill@syncworks.com.
Photo courtesy Wendy Patton 
The Palm Valley Boat Parade will be held Dec. 4 at 6 p.m.