By Marianne McNee
mail@floridanewsline.com
The Ponte Vedra High School Marching Band has won the Grand Champion title two different FMBC Regional Band Competitions held this marching season. This marks the first time in school history that the band has earned these honors.
Featuring its 2017 show, "Jack," the Ocean of Sound placed first among 11 other bands at Middleburg High School's Echoes of Excellence Competition on Sept. 30. Additionally at this competition, the Ocean of Sound Color Guard earned the Best in Class honor in the 4A Class, another first-time honor. Two weeks later, on Oct. 14, PVHS again came out on top against 15 bands at the Golden Eagle Classic at Fleming Island High School.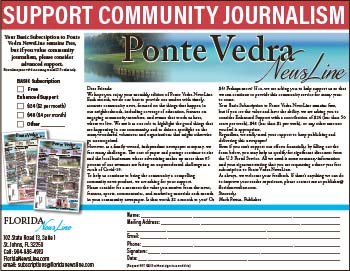 In addition, at its most recent performance at Music Performance Assessment at Bartram Trail High School on Nov. 3, the Ocean of Sound was awarded a "Superior" rating by the Florida Bandmasters Association.
"I could not be prouder of each and every band member," said Band Director Jermaine Reynolds. "They have played their best runs of the show at the most important moments, with emotion and commitment."
This is the eighth year of the marching band at PVHS, but last year was the first time the Ocean of Sound had official band uniforms, a big step in attaining performance impact and stature. The band made its FMBC State Competition debut in 2016, a valuable experience for everyone.
The size of the band has also increased this year, with more than 100 students including Elie Hill, a PVPV/Rawlings fourth grader, who portrays Jack with great style and energy.
"To get to the next level, we have to focus on all of the little things we're always talking about in practice. Sustaining energy throughout the entire show. Maintaining the sound through every phrase. More emotion," said Reynolds. "It's easy to move from a 70 to a 75 in competition, but much, much harder to move from 78 to 80."  
The Ponte Vedra High School Marching Band will compete at the 2017 FMBC State Championships on Nov. 18 in Tampa.  
Visit www.pvband.com for more information.  
Photo courtesy Marianne McNee
The Ponte Vedra High School Ocean of Sound earned Superior ratings at the Music Performance Assessment at Bartram Trail High School on Nov. 3.