Q: Can you give an update on the recent report you received from the Citizens' Advisory Committee regarding the half cent sales tax for the school district?
A: This report was very informational and contained details on what has been done with the funds in the last year as well as future plans. Some key highlights include: 
South Woods school expansion to be implemented this year;
Several roof replacements have been completed and Ocean Palms Elementary is scheduled for roof replacement this year;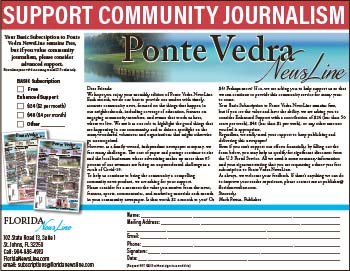 Purchased 568 computers, which were distributed to 24 schools;
Added transportation technology, including Zonar GPS and Mobile Eye Pilot on buses;
This year there will be a pilot program of Z Pass for student bus entry;
Last year and ongoing purchases of Centegix mobile panic alarm badges for teachers.
Looking ahead, we will continue to purchase safety and security systems for schools, to include cameras and door access systems, district wide.
I'd like to recognize our outstanding Citizens' Advisory Committee members who voluntarily serve from District 4. They are Chairman Jack Hardman, Damian Cook, Richa Jeetah, and alternate Javelyn Arvay. Each of these members use their financial and business backgrounds to oversee these capital expenditures. By law, the half-cent sales tax can only be spent on capital items and cannot be used for operating functions or personnel.
Q: What is the latest on the construction of the three new schools?
A: The furthest along is the Shearwater school (NN) where the power lines are being laid on the site. At the Beacon Lakes school (OO) site work is in progress after the contract was awarded in December. FInally, the bid for construction of the RiverTown school (PP) has been released and we anticipate awarding the contract in March.
Q: Do you have the winners of the county's Sunshine State Scholars?
A: This program recognizes Florida's top high school science, technology, engineering and math (STEM) students who plan to pursue their post-secondary education in Florida. This year's St. Johns County Sunshine State Scholars are Samay Soham Patel from Ponte Vedra High School and Hyde Kenney from St. Augustine High School, who will both be invited to attend the statewide event April 13 – 14, 2023. They will also receive the annual Elaine Crutchfield Math and Science Scholarship of $250.
Q: What else do you have to share with District 4?
A: Three winners were recently awarded $1,000 prizes in the Len Mattiace Foundation "Stop the Bullying" Contest. The winning entries were made by the WEB Leaders at Fruit Cove Middle School, the Dance Team at Mill Creek Academy, and Sydney Dickerson from Valley Ridge Academy.
Also, at the January School Board meeting, we recognized the Nease High School NJROTC as being awarded the most outstanding unit in the nation. They received a standing ovation for their hard work. Retired Captain Scott LaRochelle even came back for this ceremony.
Q: How can our readers contact you?
A: They can email me at kelly.barrera@stjohns.k12.fl.us or call me at (904) 547-7510.