Q: What is the latest on the county redistricting for school board and county commission as required with the latest census?
A: The redistricting is complete. I think the process went smoothly and we gave the opportunity for public input. We on the school board had time to think and decide how we wanted to proceed. District 4 needed to shrink geographically due to the population increase over the past 10 years. The original redistricting proposal did not include Neck Road or south of Mickler's in District 4, but the final plan does include south of Mickler's and Guana in our district. Overall, I'm pleased with how it turned out.
Q: Has the annual High School Showcase been scheduled?
A: Yes, this event that gives students and their families the opportunity to learn about the high school Programs of Choice and meet representatives from each high school will be held on Jan. 13, 2022 from 3:30 p.m. – 7 p.m. at the World Golf Village Convention Center.
Q: Can you give an update on the annual Mayo SPARK event?
A: This was held virtually on Dec. 7 and Ponte Vedra High School was well represented. This is like a science fair with mentoring as students begin in the summer and are paired with doctors from Mayo for projects including cancer research. I continue to be amazed at the presentations and the work that the students put in. Participating from Ponte Vedra were Emma Chirila, Emily Dorairaj, Andrew Liu, Kathryn Shapiro and Jackson Wolfe.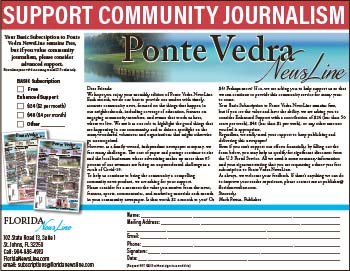 Q: What can you tell us about the recent recognition of the School Related Employees of the Year?
A: The School Related Employee of the Year celebration was held on Dec. 9 in World Golf Village. There was such excitement and appreciation among the attendees to be in person again. I'd like to congratulation District 4 school level School Related Employees of the Year: Landrum Middle School, Courtenay Page; Nease High School, Nicole Cooks; Ocean Palms, Kathleen MacGilvray; Palencia Elementary, Nelson Chute; Palm Valley Academy, Alice Fasula; Pine Island Academy, Kathleen Tompkins; Ponte Vedra High School, Daniel Clark; PVPV/Rawlings, Bradson Ephraim; and Valley Ridge Academy, Joy Calvo.
Q: Do you have any kudos to share?
A: I'd like to congratulate brand new 2021-22 Sunshine State Scholar Alternate Tabitha Gottipati from Nease High School.
I'd also like to give kudos to the Nease NJROTC for continuing to excel in their competitions.
Q: Do you have anything else to share with District 4?
A: This is an interesting story: PVPV/Rawlings was awarded a Character Counts! grant in 2018, which is to be used to fund things that will help develop character in the school. The school decided to sponsor a service dog at K9s for Warriors. Due to COVID, both the sponsorship and the training of the dog were delayed, but on Dec. 16 the dog, named "Rawly" after the school, and his assigned Army veteran graduated from the program.
Q: How can our readers contact you?
A: They can email me at kelly.barrera@stjohns.k12.fl.us or call me at (904) 547-7510.