Q: Can you give your thoughts on the FEMA berm that will be coming to Ponte Vedra area beaches soon?
A: This berm will act as a barrier, a temporary protective measure, and impact northern Ponte Vedra Beach. This emergency berm project will require some closures of Mickler's Beach for access during the week, but it will be open on weekends when the project begins in September. I'm excited for this because not only is there cost sharing with the federal government paying for the vast majority, but also because it will benefit the area and the county.
Q: Do you have anything else to share with District 4?
A: Still on the topic of the beach, we have been working with the St. Johns County Sheriff's Office and St. Johns County Fire and Rescue to make sure our beaches have adequate coverage this summer for public safety. We have all been beefing up our efforts.
Also, we celebrated the 200th anniversary of St. Johns County in July. St. Johns County and Escambia County in the panhandle are the two oldest counties in the state. This is an important time to recognize the unique history of St. Johns County and all the men and women of different backgrounds and cultures who have helped make this a great place to live.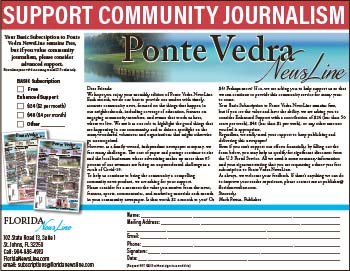 Q: What is the best way for our readers to contact you?
A: Readers can email me at bcc4jblocker@sjcfl.us or call me at (904) 679-2620.