By Capt. Kirk Waltz
mail@floridanewsline.com
It occurs to me on a regular basis that we in the fishing world take a few things for granted. I have lived in Jacksonville almost my entire adult life and have been a fisherman since the ripe old age of eight years old. With that being said, I have had the opportunity to see many a marine critter that most have not. Some you would consider normal and others many would find remarkable — even downright monsters of the deep.
One of those marine species lives and resides in our local waters. It is an amazing fish and has some most unusual characteristics. One of those unique characteristics is its incredible array of teeth. This fish I am referring to is a sheepshead.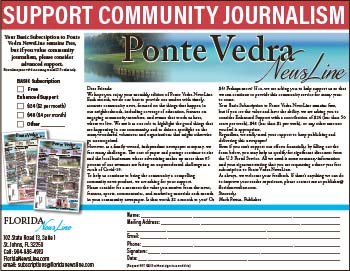 Now most folks would ask the first question, "Does it look like a sheep?" and frankly it has no resemblance to a sheep except that its teeth could be said to be similar, though I have never pulled up the lips of a sheep to check out its teeth. And my other thought is how many guys or gals are fishing way back then and thought that looks just like a sheep. It doesn't, but to many it's incredible to see a fish with teeth that really resemble our own teeth. To many folks it's downright a mind blower and what many would consider a monster fish. To me it shows that God has a sense of humor and we have something else to look at that truly is quite remarkable.
Here is quick rundown on this really cool fish. Sheepshead or archosargus  probatocephalus is a flat oval species with human-like teeth, a forked tail, large sharp dorsal spines like sewing needles and five or six dark vertical stripes or bars similar to a zebra. It can grow upwards to 30 inches and 22 lbs., though our Florida state record is only 15.2 lbs., caught in Homosassa in 1981. Its menu items consist of crabs, shrimp, clams, and other invertebrates as well as some plant species. They prefer structures like rocks, pier pilings, oyster bars and back country estuaries.
They are a prized food fish though they can be very difficult to catch as they are finicky eaters. Its flesh is very white when cooked and has a mild flavor that is widely enjoyed. One drawback is its heavy scales and large bones, which make it difficult to clean and can be tough on your knives.
Jacksonville is home to this species and they can be found from as far south to Green Cove Springs to the mouth of the St. Johns River. Their range is as far north as Nova Scotia and south to Brazil. Sheepshead Bay in Brooklyn, NY is named after this fish, though they are rarely found there anymore.
On the local fishing front April typically kicks us into high gear with moderate temps and warm water. Look for reds, sheepshead, trout, black drum and ringtails to congregate at the big rocks at Mayport and be caught in good numbers in the Intracoastal Waterway (ICW) both north and south of the St. Johns River. The creeks feeding the ICW in both directions will be very productive this time of the year.
Spanish mackerel should show at the inlet as well as the beginning schools of menhaden. That influx will draw all the migrating species down the coast along the beaches. The offshore wrecks and reefs should get fairly busy with bottom species like sea bass, ringtails, snapper, triggerfish and other migratory species. Get off the couch and enjoy the weather.
Capt. Kirk can be contacted by calling (904) 241-7560 or (904) 626-1128 or visit www.Enterprisefishingcharters.com or listen to the Outdoors Show every Saturday on 92.5 FM / 1010 AM, 7 a.m. – 10 a.m. for weather, tides, and reports with Capt. Kevin Faver and Jeff Lageman.
Photo courtesy Capt. Kirk Walsh
The sheepshead doesn't really look like a sheep.