By NewsLine Staff
Helping Hands of Nocatee visited the St. Francis shelter in St. Augustine recently to prepare and serve dinner for the residents who live there temporarily.
The adult volunteers prepared the entire meal in the kitchen while the children who volunteered worked on the salads, dessert and folding napkins. After the adults loaded the plates, the children served the meals to the residents and provided refills as requested.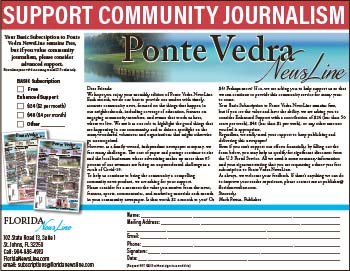 Helping Hands of Nocatee volunteers also made up plates for the people who were coming back from working all day and would not be present for dinner. Finally, after they had cleaned up, they took some time to visit with the residents.
"This was a great opportunity for the children to work firsthand with the homeless and less fortunate in our county and to see how a small effort can help make a difference in someone else's life," said Anne Crane, president of Helping Hands of Nocatee.
The mission of Helping Hands of Nocatee is to help those in need in St. Johns County through service and donated goods. The group emphasizes the involvement of children and teens as a way to teach the value in charitable giving and service, but it is not required to have children to participate.
Helping Hands has a full schedule of events planned for 2016 and is always in need of volunteers. Contact helpinghandsofnocatee@gmail.com if you have an interest in helping out in a future activity, event or planning meeting.
Photo courtesy Lisa Rotella
Aubrey O'Reilly, Madison O'Reilly, Anne Crane, Savannah Crane, Hunter Crane, Jill and Lance DAmato, Lisa Rotella and Ava Rotella volunteered at St. Francis House.