By NewsLine Staff
mail@floridanewsline.com
Troop 288 in Ponte Vedra recognized five new Eagle Scouts at a Court of Honor on Thursday, March 30. All five Scouts earned the rank of Eagle in 2022, which, when combined with the other two Scouts from Troop 288 who earned Eagle in 2022, placed Troop 288 third in all of North Florida Council. Landon McIntosh, Cody Langley, John Charles "CJ" Joyner, Jack Hilbert, and Jacob "J.T." Taylor were honored for earning Eagle rank. The Eagle rank is the highest award in the Boy Scouts of America program.
You might wonder how a troop ranks high for producing Eagles, when only 6 percent of those who join scouting ever become Eagle Scouts; however, consider that Troop 288 is a scout-led troop that camps monthly and devotes countless service hours to the community. Though attaining the rank of Eagle is only one part of the scouting experience, it is easier to achieve when the rest of one's scouting experience is so fun, challenging and rewarding.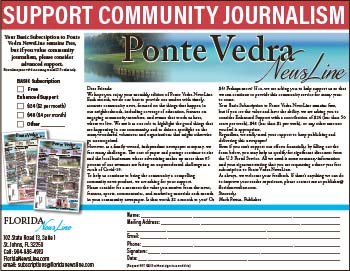 On the journey to Eagle rank, each boy scout earned 21 merit badges, served in a leadership position for 16 months, and spent numerous hours on service projects including their Eagle Scout service project totaling more than 150 hours of service.
Landon McIntosh's Eagle project was a wall-hung, double book library for the Lord of Life Lutheran Church.
Cody Langley built book libraries for the Dolphin Cove Community Park.
CJ Joyner built a display shelf for trophies and storage shelving for instruments for the Ocean of Sound, the Ponte Vedra High School marching band.
Jack Hilbert's Eagle Scout project was building a storage shed for Peace of Heart Community, which provides a group home for persons with autism.
J.T. Taylor's Eagle Project was replacing parking boundary fencing at Princess Place Preserve.
Troop 288 meets at Ponte Vedra High School on Tuesday nights from 7 p.m. – 8:30 p.m.
Photo courtesy Lacey Taylor
Troop 288 in Ponte Vedra recognized five new Eagle Scouts at a Court of Honor on Thursday, March 30.