By Martie Thompson
editor@floridanewsline.com
BEAM (Beaches Emergency Assistance Ministry) is currently gearing up for two major annual events that will be taking place in August. 
The 26th annual Back to School with BEAM will be held at Beach Church on Saturday, Aug. 3, from 8 a.m. – 12 p.m. During this event, more than 700 students set to attend preschool through high school will receive a new backpack and school supplies, new underwear, a voucher for a new pair of shoes, and an opportunity to "shop for free" for new and gently used clothing. Volunteers are needed for this event; visit https://www.signupgenius.com/go/20f0c4ba5ab2baa8-back1 to sign up.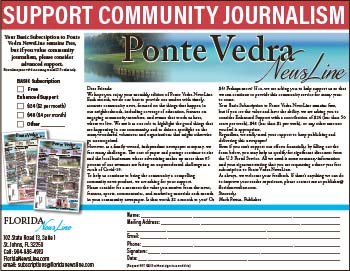 BEAM continues to rely on individuals and groups to donate gently used clothing, shoes and new underwear to ensure students have a variety of items to choose from. Donations are now being accepted at the 7north BEAM Thrift Shop, located at 318 7th Ave. N. in Jacksonville Beach. Items should be dropped off at the donation area behind the building. Last minute donations may be used for the Back to School with BEAM event or might provide assistance to BEAM by being sold in the thrift shop. 
According Lori Richards, executive director of BEAM, the organization is in need of gently used school-appropriate clothing and shoes for students in grades K-12. Particularly needed are boys' and young men's clothing; girls' sizes 6, 6x, 8 and 14; new underwear; and accessories such as hats and belts. Polo-type shirts are part of the uniform for some schools, so white, green, and blue polos are needed. No jeans, please. Monetary donations for school supplies are also appreciated.
A full list of items can be found at www.jaxbeam.org/back-to-school-with-beam along with a listing of all donation drop-off locations.
"Our volunteers and community partners look forward to this event each year," said Richards. "This year will be our 26th Back to School event and we are so pleased to allow children the ability to 'shop' for their back to school needs."
In order to support events like Back to School with BEAM and other programs such as BEAM's food assistance, financial assistance, nutrition, and single parent programs, the organization will host its annual fundraising gala event, the BEAM of Light Beach Ball, on Saturday, Aug. 24, 2019 at the TPC Sawgrass Clubhouse. The event is presented by Ullmann Brown Wealth Advisors and will include an open bar, heavy hors d'oeuvres, live music by RadioLove Band, and auctions. Tickets are available for $150 each. Young professionals (35 years old and younger) can purchase tickets for $100. 
"This ball is such a wonderful and fun event at the end of the summer," Richards said. "We are grateful to our sponsors of this, our largest BEAM fundraiser, which is important because it helps provide the resources we need to carry out our mission."
Jennifer Waugh, news anchor at WJXT-TV Channel 4 News, will be the master of ceremonies for the event and the auctioneer will be Jacquelyn Smith, director of Special Operations for Congressman John Rutherford. 
"BEAM is often a lifeline for families who suddenly find themselves in crisis with nowhere to turn. No one should feel helpless and alone when they are trying to feed and house their children. It is why I am pleased to, again this year, help BEAM raise money so it can continue to support beach communities," said Waugh. 
Visit www.jaxbeam.org/ball for event, ticket, and sponsorship information.
"BEAM is a community-driven organization and it is thanks to all of our generous community members that we are able to help our neighbors in need through events such as Back to School with BEAM and funds from the BEAM of Light Beach Ball," said Richards. "We hope that once again, our community will come together and make these events a success this year."
About BEAM: Beaches Emergency Assistance Ministry (BEAM) helps provide emergency assistance and a path to economic stability to low income families and individuals in the Jacksonville Beaches area. Founded in 1985, BEAM's services include rent and utility assistance, two food pantries, The Beaches Community Food Bank, and an organic garden that provides thousands of pounds of fresh vegetables and fruits annually to our clients. BEAM is a 501 C 3 non-profit organization. Visit www.jaxbeam.org for more information.
Photo courtesy BEAM
The 26th annual Back to School with BEAM will be held at Beach Church on Saturday, Aug. 3, from 8 a.m. – 12 p.m.