From WW II to today, music has kept Bugs Bower going for more than nine decades.
By Sara Zeilman
mail@floridanewsline.com
Everything in "Bugs" Bower's life has a story. The 93-year-old resident of Ponte Vedra Beach easily moves through his home, teasing with these stories as he passes records, slips of paper and gold record plaques, on his way to a baby grand piano in the middle of the sundrenched living room. "Bugs" flashes a quick, sly smile, sits down on the bench and the room is transformed by the sounds of the Charlie Chaplin 1936 instrumental "Smile." Even though Bower says he is a trumpet player first, the story he tells with his piano is one that keeps him smiling.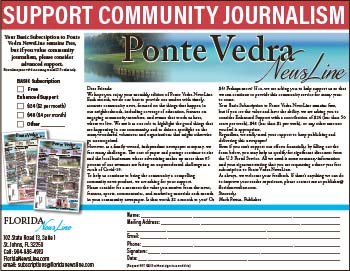 Born in 1922, Maurice "Bugs" Bower grew up in Atlantic City, New Jersey. The son of a music arranger, Bower's life has always revolved around music. His humble beginnings in New Jersey paved the way for a life full of experiences, from traveling the world as a dance band arranger, to producing and arranging hit songs for some of the top musicians of the day (including Kool and the Gang and Perry Como) to helping liberate a concentration camp in Germany. And it's been music, according to Bower, that has kept him going all this time.
Bower said growing up in Atlantic City, he was exposed to music in the summers when great bands would play in the ballrooms on the piers.
"It was so lucky for me," he said of having the exposure. It was that exposure to the big band musicians of the day that got Bower started playing trumpet. He said he saw Glenn Miller play at the Million Dollar Pier and was amazed.
"That was the beginning of my whole life," he said.
Bower went home and begged his father to teach him how write and arrange music. He learned to write out the score of Miller's "Moonlight Serenade," played it in school, and said, "The kids went crazy."
From there, it was music first, all the way. After graduating high school in the early '40s, Bower played second trumpet in the Ice-Capades at the Atlantic City Convention Hall. One of his colleagues insisted that he travel to New York City to study music and off he went to chase his dreams.
In New York, he studied with a variety of different music teachers, struggling to find the right fit for his vision of trumpet playing. When the United States entered World War II in 1942, Bower returned to Atlantic City. He was drafted October 28, 1942 into the 89th Infantry Division.
"Bugs" got his colorful moniker in the army. In an oral history interview with the United States Holocaust Memorial Museum (conducted July 24, 2015), he said the nickname is from the cartoon character Bugs Bunny.
"Because all of my life, and I mean it, from the very beginning, I'm very fast at everything that I do," he said. "And, again being in the army, one of the people picked up Bugs Bunny and they used to kid me about it. They used to put carrots in my bed, I remember … my bunk and things like that."
And the nickname stuck. During his time with the 89th Division, Bower found his way to music again. He said early on in his training he was woken by a noisy band playing in the early morning hours.
"That was all I had to hear, that there was a band," he said. Bower went to the band leader, told him his experiences playing in Atlantic City and listened to the army dance band.
"They were terrible," he said. "They had terrible music they played."
Somehow, he said, he got ahold of score and manuscript paper and wrote out a few different musical arrangements for the band.
"When they heard my music play, I became a star overnight," he said.
Bower wrote a book of arrangements for the band and spent the rest of his time in the army touring the front lines with the army's Dance Band. He said the greatest thing, besides girls, was to hear the music of the day.
It was through this assignment that in the spring of 1945, Bower ended up liberating Ohrdruf, a sub-camp of the Buchenwald concentration camp in Germany. According to the U.S. Holocaust Memorial Museum, Ohrduf was the first Nazi concentration camp liberated by U.S. troops in Germany.
Bower said the camp was full of all men and when they opened the gates, he was greeted by people who seemed no taller than four feet high, due to the starvation they experienced.
"When I went into Ohrdruf there was a gate," he said. "I remember seeing barracks with bodies of men in it covered in lime. What saved me was music. When I wake up and go to sleep, I'm involved in music."
Bower's experience with the 89th Division was recorded for the U.S. Holocaust Memorial Museum and is a part of the museum's archives. He said he was invited to visit the museum, but declined as living it was enough for him.
After the army, Bower made his way back to New York to continue to study Trumpet at the Julliard School. He studied with Charles Colin, a trumpet educator and publisher, who he called his mentor. It was through Colin's suggestion that Bower tried his hand at writing jazz and bebop arrangements in book form for others to play. Bower said the books were very popular.
As time went on, his ideas led him to producing and arranging music for names like Bing Crosby, Perry Como, Cab Calloway and Bryan Hyland. Bower detailed all of these interactions in his book, "Nice Stories about Nice People."
These days, "Bugs" and his fiancée (of 36 years) Katherine Stanley Podwall enjoy the retired life in Ponte Vedra Beach.
"Every day I say thank you," Bower said of his life here. "I love it – we've got the [wildlife] and the fishing."
But the North Florida lifestyle hasn't slowed him down – Bower still tells his stories and works on new ideas every day. His latest is a dated food storage container, called Dated Ware, designed to help people know exactly when their leftovers originated.
"I play piano every day," Bower said. "It works. Being in music keeps me going all the time."
Photo by Sara Zeilmam