By David Lifka
mail@floridanewsline.com
We have reached the time of year when area fishing is about to crank up and go into high gear. It could be days or just weeks at the most as we watch the warming trends of our weather that will eventually bring us another springtime fishing run. Soon we can expect bedding largemouths in our ponds and creeks, blues and whiting in the surf, sheepshead at the rocks, with croakers and yellowmouths working their way south on the St. Johns.
Now that you know they are coming, are you ready for them? Proper preparation for any fishing trip is important, but preparing for an entire season at this time is of the utmost importance. Now is the time to be sure your equipment, tackle, boat and trailer are all ready to go when you are. Doing so now can save you a lot of aggravation and headache when things seem to go wrong — that didn't have to.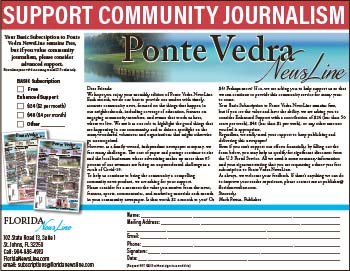 Getting your boat checked out now before going in the water is a good idea. Batteries, water pump impellers, fuel filters and fresh fuel are areas that should be looked at yearly before taking to the water. Getting stranded at the dock is not fun and breaking down on the water is the worst.
Taking a good look at your trailer is also a good practice prior to new boating season. Ensuring good tires and axle bearings before taking to the road this year is an easy practice that can help prevent unnecessary breakdowns to and from the ramp.
Making sure there are no surprises with your fishing equipment can certainly help make that first trip out this year more pleasurable. Checking to make sure your reels are still functioning properly is a must. Check the line, bails, drag and ease of reeling for any problems. A good cleaning and lubrication at this time might be just what that reel needs to get you through another season. Also take a good look at your rods for any broken tips or guides and repair them accordingly.
There is nothing worse than needing a certain type of tackle for a certain fish that is biting and not finding it in your tackle box. Inventory your tackle now. Make sure you have the proper number of the hooks, weights, plugs, artificials and dozens of other pieces of tackle you like to have on hand when fishing. Doing so will give you the peace of mind you need for any unexpected fishing trip that may come up this year.
Fishing Report: Largemouth bass fishing is at its best for the upcoming several weeks. Try any nearby body of freshwater.
Whether you catch one, some, or none, the family time spent fishing will last a lifetime.