By NewsLine Staff
mail@floridanewsline.com
After a two year hiatus due to the pandemic, the Fallen Heroes Military Tribute will resume on Sunday, Nov. 6 at 1 p.m. at Faith Community Church, located at 3450 County Road 210W in St Johns. The Memorial Field of Crosses honors Florida born military service men and women who lost their lives in the line of duty in the Iraq and Afghanistan wars. There are 351 four-foot crosses that bear the names, pictures, rank, branch of service, age, birth and date of death of those who perished. The eight larger crosses represent all others who died in World War I, World War II, Vietnam, Korea, Persian Gulf and Beirut, Iraq and Afghanistan. This year a special tribute will honor the 13 brave soldiers who died in our exit from Afghanistan last year helping to rescue others.
A program will be presented featuring an Honor Guard, an invocation by Pastor Dusty Phillips, the reading and bell ringing for each Florida hero, special musical presentations, guest speakers and a representative from Tunnel to Towers will be present to speak about her hero husband and what the organization has meant to her. Jim Steele, bugler from Bugles Across America, and Lou Henningson, a bagpiper, will also reprise their tributes from previous years.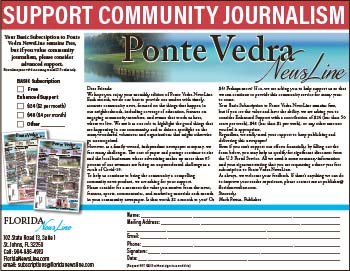 This tribute has been displayed in nine churches in the area since its inception in 2015. This year it is being sponsored by Boy Scout Troops 718 and 474.
The memorial was a vision of Helping Hands of St. Johns County to honor local service men and women who sacrificed their lives to keep the country safe. The Memorial Field of Crosses is free to the public and will be open daily from dawn to dusk for viewing. Visitors are asked to be respectful and pay homage to these exceptional men and women.


Photo courtesy Jackie Valyou
he Fallen Heroes Military Tribute will be held Sunday, Nov. 6 at 1 p.m. at Faith Community Church, 3450 County Road 210W.