By NewsLine Staff
mail@floridanewsline.com
Recently, the St. Augustine Wild Reserve received two new tiger cubs, Rupa and Shiva, from an animal compound out of state. The cubs were born in November 2018.
"Our new orange cubs have settled in very well," said St. Augustine Wild Reserve founder Deborah Warrick. "My staff has leash trained them, enabling them to go for daily walks outside of their habitat."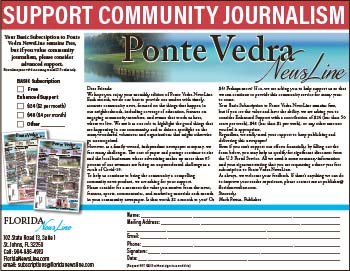 In what Warrick calls an added bonus, the reserve also acquired a 14-month-old white tigress named Gita, who is already leash trained.
Warrick said tigers are the largest of the cat family, but they are nearing extinction because of poaching, the illegal trade in wildlife and habitat loss (due to humans who over-harvest timber, and human encroachment onto lands formerly occupied by tigers). The overhunting of the tiger's natural prey species by humans is also causing their decline. There are only about 3,500 tigers left in the wild, compared to more than 100,000 tigers as little as 100 years ago. Listed as endangered by the International Union for the Conservation of Nature, two tiger subspecies are listed as critically endangered (the Malayan tiger and Sumatran tiger). Of the nine original tiger subspecies listed, only five subspecies remain: the Bengal tiger, Indochinese tiger, Sumatran tiger, Siberian tiger and Malayan tiger.  
According to Warrick, the illegal trade in wildlife nets organized crime of more than $20 billion a year, second only to the illegal trade in drugs. Tiger parts are in demand in Asian medicines and unfortunately, for some, tigers are worth more dead than alive.
"At the St. Augustine Wild Reserve, we educate our guests about the plight of wild tigers and other endangered species," Warrick said. "Preserving these species starts at the bottom, with the consumer. If people stop purchasing products that contain tiger parts, or ivory from elephants, there will no longer be a demand for such items. We hope that when visitors view our beautiful new tiger cubs, and our other tigers at the St. Augustine Wild Reserve, they will leave here with a better understanding of the diversity of wildlife in the world, and take steps to protect it."
Owned by Warrick, who holds a bachelor's degree in Biology as well as a master's in Veterinary Forensic Science, and staffed by a host of volunteers, the St. Augustine Wild Reserve is always in need of new caging and supplies as well as volunteers. Email wildreserve@aol.com if you have building/welding or fence working skills or would like to volunteer. The reserve cannot take in additional rescued animals without public support, since it does not receive any government funding. The St. Augustine Wild Reserve is a 501©3 tax exempt organization.
The St. Augustine Wild Reserve offers tours on an appointment-only basis on Mondays, Wednesdays and Saturdays at 2 p.m. Call (904) 940-0664 or email wildreserve@aol.com to make a reservation. Visit www.staugustinewildreserve.org for more information.

Photo courtesy Deborah Warrick
Shiva and Rupa