Q: Can you give us some highlights of the recently concluded legislative session?
A: Education is so important in St. Johns County and I'm pleased that we had an increase in funding of $257.30 per student over last year. This increase includes an additional $13.9 million in flexible funding, an additional $197,000 for safe schools funding and an additional $118,000 for school mental health assistance funding.
Q: Will there be another back to school sales tax holiday this year?
A: Yes. Don't forget to take advantage of this Aug. 2 – Aug. 6. The five-day back to school tax holiday will allow shoppers to avoid paying sales tax on clothes costing $60 or less, school supplies costing $15 or less and personal computers costing $1,000 or less.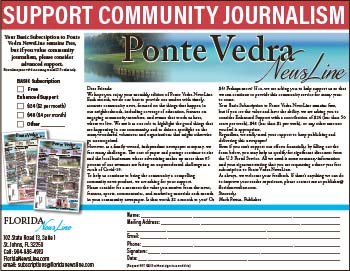 Q: The texting while driving bill is getting a lot of justified attention. What can you tell us about it?
A: HB 107 — the Wireless Communications while driving bill — authorizes the enforcement of texting and driving as a primary offense. The bill also prohibits a person from operating a motor vehicle while using a wireless communications device in a handheld manner in a designated school crossing, school zone, or work zone, and makes doing so a primary offense. I'd like to say a big congratulations and thank you to Representatives Toledo and Slosberg who were the sponsor and prime-co-sponsor on this bill and for allowing me to co-sponsor it as well.
This bill was signed into law by Gov. DeSantis on May 17 and will take effect on Oct. 1, 2019 with a "warning/educational" period, and full effect on Jan. 1, 2020. 
Q: Can you tell us about the outcome of your Peer Specialist bill?
A: HB 1187 passed the Florida House, but did not pass out of the 
Senate. I have every intention of pursuing the remaining parts of this bill next session; however, I am very grateful that some of the provisions of HB 1187 were included in HB 369. Because of this, more people will be eligible to serve as a Peer Specialist in Florida; fewer people will be disqualified for non-violent substance abuse related charges in their past. This is a win-win for Florida. We need the workforce to help people recover, and more people will have the opportunity to do this important and meaningful work. Peer Specialists have been proven very effective in helping other people recover from mental health and substance use disorders because of their own experiences. Peer Specialists will have to undergo a rigorous selection, background check and training
Q: What's on the horizon?
A: We are already looking ahead to the next session, with committee weeks beginning on Sept. 16. (The 2020 Session begins on Jan. 14, 2020.) One of the things I am doing now is talking to the school district to come up with ideas to make walking to school safer. What represents hazardous walking conditions and how can we solve them? Transportation is jointly funded by the state and locally, so we need to collaborate. 
Q: What is the best way for our readers to contact you?
A: Readers can email me at Cyndi.Stevenson@myfloridahouse.gov or call my local office at (904) 823-2300.