Q: Can you share some information about your office's Real Time Intelligence Center?
A: The Real Time Intelligence Center is housed at our new facility, the Emergency Communications and Training Center. We have a supervisor assigned to this unit, along with six criminal analysts, two sworn detectives and a tech support specialist, and they physically solve crimes from behind their keyboards. 
Q: What types of technology do you use?
A: We use Fusus, a software aggregator that brings all the technology under one platform — such as Computer Aided Dispatch calls (CAD calls), our patrol cars, the FDOT traffic cameras, Waze for traffic, and license plate readers (LPRs).
Q: What can you tell us about Connect St. Johns?
A: Connect St. Johns (www.connectstjohns.org) is a public safety program that enlists the help of residents and businesses to keep our communities safe. The website allows residents and businesses to register their home cameras so we know where they are located in the event of a crime. There is no direct access to privately owned cameras and we only use the registry to request footage if needed. Cameras may also be integrated using a special core device and written permission from the camera owner; in this way our authorized analysts would be able to tap into them real time to help solve a crime in progress. These programs are completely voluntary, but they provide another means of modern day electronic policing.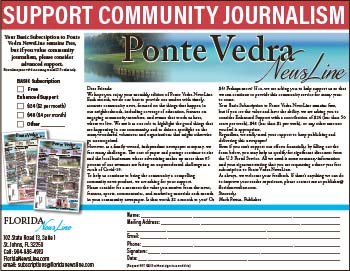 Q: How does your office use license plate readers (LPRs)?
A: This technology was actually developed in the 1970s in England and has been used by other states for years. The Florida Department of Transportation uses LPRs to collect tolls. In St. Johns County we've only utilized it since 2018.
I'd like to dispel some rumors about LPRs. The facts are that we only use LPR technology for public safety and criminal offenses. We do not issue any tickets or citations using LPRs. All data we receive from the LPRs, which we strategically place to protect the community such as around schools and near large events, is owned by SJSO and we do not sell it to anyone. The LPR only taps the rear of the vehicle, not the occupant inside or any personal information. Our office is audited quarterly to make sure that any data is only accessed by our Real Time Intelligence Center.
Q: Have the LPRs been successful in helping you solve crimes?
A: Yes. Since the inception of using LPRs here, we have recovered 398 stolen vehicles and 97 pieces of stolen property, arrested 170 individuals with active warrants for their arrest, and apprehended 478 individuals charged with a crime. We've also recovered 72 missing individuals. A double traffic homicide on Race Track Road in 2019 was solved when the driver who hit two bicyclists fled to his residence and hid the vehicle in the garage. Six hours later, we had a search warrant and were able to bring closure to the case.
Q: What is the best way for our readers to contact you with any questions or suggestions about this article?
A: They can email me at sheriff@sjso.org or call me at (904) 824-8304. Also, our website, www.sjso.org has a wealth of resources, from alarm registration to Crime Stoppers to our Neighbors app.