By Tiffany Merlo Phelps
mail@floridanewsline.com 
It is SOUPer Bowl time! Okay not Super Bowl, but Nease High School students are using the football theme at the Jan. 30 fundraiser from 6 p.m. – 8 p.m., hosted at Nease, to raise money and awareness about student hunger in St. Johns County. The goal is to feed eligible students across the county, providing food during the weekends and school breaks when some students would otherwise go hungry. This is the event's fifth year.
"It is such a feel-good event, a community event where everyone donates their time and energy to this cause," said Patti Ann Farrar, one of the event founders and the Chef Committee chairperson. "It is the Thursday night before the real Super Bowl, so we like to think about it as a tailgating event."
At the SOUPer Bowl, participants pay $25 to taste signature soups from more than 20 well-known local chefs and also receive a commemorative ceramic bowl made by art students of Nease, Bartram Trail High School, Creekside High School, Palencia Elementary, PVPV/Rawlings Elementary, Valley Ridge Academy and The Webster School.
Last year, Restaurant Medure Chef David Medure offered a tomato soup with charred eggplant and basil mousse and the Ice Plant of St. Augustine served a duck and white bean chili with black garlic sour cream. Sysco Jacksonville Inc. provided a bread and cheese table, disposable cups, spoons and napkins as well. All three businesses donated their time and products from the very first year, and continue to do so at each event. The tasting event has raised $120,000 in four years with all of the money going towards the cause. It costs $250 to feed one student for one year, said Farrar.
"We might spend $1,000 on this event. Everything else is donated. That is huge," said Farrar.
Nease students work all year to help provide food for 9,000 children all across the county who are eligible for the free and reduced program, said Farrar. Students, currently partnered with Hugs Across the County, meet every week to gather, organize and pack the food for local schools. In 2015, the SOUPer Bowl began when organizers noticed that more than 100 students remained on a waiting list for weekend food, said Farrar.
"The SOUPer Bowl event is the perfect example of a support organization, local restaurants and the schools working together to provide for a need in our community," said Nease Principal Lisa Kunze. "Nease International Baccalaureate (IB) juniors gain leadership skills in hosting the event and also throughout the school year as they practice service above self by packing meals for elementary children. The IB program encourages students to be the change agents in their communities, so the experiences this event provides are extremely valuable to our students."
Former Nease parent Amrita Bhargava, also one of the event founders, said her children helped with the packing project and the SOUPer Bowl while at Nease. Both attended The Webster School, one of the schools for which Nease students pack meals.
"With the SOUPer Bowl, raising money is just one part of it. Another part is raising awareness. Since we live in an affluent county, people do not always understand how many children are in need," said Bhargava. "Once people know about it, they are willing to step up. This event was just a lot of hope and desire to do something for the kids in this county."
Bhargava said the entire school contributes to the event. The Design Academy creates an event brochure, the Art Department makes and coordinates bowl making, the Hospitality and Tourism Academy busses tables and stocks the water station, the Communication Academy produces an event video and the IB juniors handle publicity and work the event, she said.
Bhargava's son, Rohan, now a University of Florida freshman, said he was so impacted by the SOUPer Bowl and the food packing that he now sits on the Blessings in a Backpack Regional Board, another organization that Nease has partnered with in the past to provide weekend food. Rohan said that he offers the board a student perspective, and the goal is to continue to expand the program to other schools in need.
"The weekly food packing grew into so much more with the SOUPer Bowl. It has become more of a community event," said Rohan.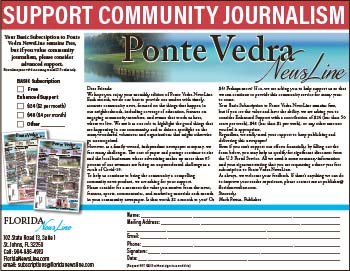 Tickets can be purchased ahead of time at www.StudentsTackleHunger.org and will also be sold at the door. 
Photo courtesy Amrita Bhargava
Guests at the SOUPer Bowl.