By Eleanor Ruffes
mail@floridanewsline.com
Dr. Donna Richardson, principal of Mandarin High School, is a true asset to Mandarin families and the greater community — and her unwavering dedication to her students and school has not gone unnoticed. Richardson recently earned two outstanding accolades: on May 10, Richardson was awarded the Paul Harris Fellow Award by the Mandarin Rotary and two days later, at a gala sponsored by the Duval County School System at EverBank Field, Richardson was honored with the Duval County Public School 2016 Principal of the Year award.
At the event, which Richardson describes as one of the most special evenings of her life, she and her colleagues, including Duval County Public School Superintendent Nikolai Vitti, were served food and entertained by elementary and secondary school students at EverBank Field.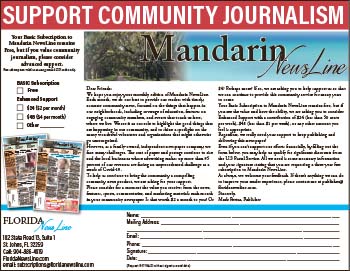 She said, "When I heard my name called at the awards ceremony, I was absolutely thrilled and a little surprised. As a veteran educator, I am not used to getting this much recognition for all the work I do each day. It felt very rewarding and special. I am honored to receive it."
But Richardson recognizes the talent of the other Duval County principals that were nominated and said she considers all the hard working principals in Duval County to be Principals of the Year.
Richardson credits the Mandarin High School staff with helping her accomplish phenomenal goals for the school. She said the administrative team works efficiently and well together.
"The teachers are great and understand the importance of 'ownership' when imparting content and character to our young people every day," she said.
Richardson takes pride in the campus itself, likening it to "a beautiful small college."
Richardson truly loves her job — and it shows. Mandarin High School students reap the benefit of this passion; the number of programs Richardson has initiated since she arrived at MHS is unprecedented. She has instituted Mentoring Mondays (M&Ms), the For the Love of Reading campaign, the Genre Fan Fair book fair, Lunch and Lap program, Health Fair and History Fair, among others.
Richardson begins each day with a motivational message to inspire students, teachers and staff. Under Richardson's leadership, Mandarin High School has just been awarded Five Star School status, which recognizes its excellence in the fields of volunteer hours, local business partners, academic achievement by students and community building events.
"Dr. Richardson builds a school culture that drives students, teachers and parents to make Mandarin High School an 'A' school, year after year," said Assistant Principal Beth Pecarek. "Part of what makes Mandarin an excellent school is the leader [Richardson] who builds a community where people want their children involved."
Photo courtesy Mandarin High School
Dr. Donna Richardson