By Angela Higginbotham
angela@floridanewsline.com
An inspiring author and devoted family man, Victor (Vic) DiGenti was born in the old mill town of Lawrence, Mass. At the age of six, his family moved to Ft. Lauderdale. He graduated from the University of Florida with a degree in telecommunications and started his career with WJXT in Jacksonville. A long time resident of Ponte Vedra Beach, DiGenti and his wife fell in love with the area many years ago.
DiGenti enjoyed a successful career in broadcasting as a producer and director of public affairs programming, reporting and is also credited in several award-winning documentaries. DiGenti had a brush with greatness in 1964 when he was chosen to be a cameraman for a Dan Rather interview featuring Martin Luther King, Jr. DiGenti also worked in radio for a short time before spending the majority of his career with WJCT.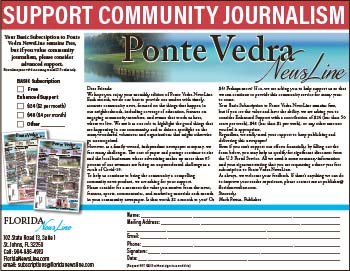 DiGenti achieved early success with the release of his Windrusher adventure trilogy. He later transitioned into writing mystery novels. The Quint Mitchell mystery series was written under the pen name Parker Francis. DiGenti has authored eight novels and two collections of short stories to date. He continues to write almost daily and is currently working on a new novel and another short story.
DiGenti devotes much of his time to volunteer work. He is on the board of the Friends of the Ponte Vedra Library, and he organizes and hosts the monthly Book Talk Cafe program. DiGenti invites many authors, published and as of yet unpublished, to these meetings to mingle with other writers and readers. He has served as co-director of St. Augustine's Florida Heritage Book Festival and Writer's Conference, and he is the acting Northeast Florida Regional Director for the Florida Writer's Association.
Do you believe that readers are better writers? What other writers have inspired your own work?
Yes, definitely. To be a great writer, you also need to be a great reader. I read a lot of both fiction and nonfiction books. Michael Connelly, James Lee Burke, and Blake Crouch are a few authors that come to mind.
What was your rationale for using a pseudonym for your mystery novels?
In my first series "Windrusher," a cat is the protagonist. The books generated a lot of interest with younger readers and when I later decided to write mystery novels for adults, I didn't want my name to add any confusion regarding age appropriateness. I came up with Parker Francis by combining family names.
What do you feel is your greatest accomplishment, both in your career and personally?
I produced the Jacksonville Jazz Festival for eight years and it was very satisfying. We were able to expand the scope of the event to four days. We brought jazz into the schools. We paired a jazz musician with a high school band program for a week and the musician mentored the students. At the end, they would play together in concert. I was later honored by being inducted into the Jacksonville Jazz Festival Hall of Fame. I'm also very proud to have received 14 awards for my books and short stories.
On a personal level, my greatest accomplishment is holding on to my wonderful wife, Evanne, for 51 years. She's a true saint for putting up with me all that time. We have two wonderful sons, a granddaughter and another on the way. Life is good.
If you could tell your younger writing self anything, what would it be?
Start a lot earlier. I didn't write my first book until after I retired. Publishers like writers who start young and have a long career ahead. Pursue it very seriously and stay focused.
I'd say just stay with it and realize that what you are writing is just your first draft. Real writing comes with a lot of revisions and rewriting. It's often hard to stay focused, but if you do stay on track, you will eventually have written the book you were meant to write. My first draft normally takes about eight months, and then I have about another three months of rewriting it.
What do you enjoy outside of writing and volunteer work?
I love to read. I usually have three or four books going at one time, including an audiobook or two. My wife and I enjoy movies, eating out, walking on the beach and visiting our boys and their families. Our sons both live in Southern California. We usually make a couple of trips each year to visit them.
If you could read only one book for the rest of your life, what would it be?
"Watership Down" by Richard Adams.
You haven't read it? You should read it.


Photo by Caryn Levy
Vic DiGenti