By Tiffany Merlo Phelps
mail@floridanewsline.com
Ponte Vedra Beach resident Emily Spencer didn't intend to start a non-profit organization that has sent 3.5 million holiday cards to military service members all over the world — but that is exactly what happened after the Heartillery Group founder made one simple Facebook post in 2012 asking for the community to fill out cards. 
"I received 17,000 cards in five weeks from 15 states," said Spencer, who had set a goal of 1,000 cards. "I really thought that I would have to write all the cards by myself. It sort of all happened by accident."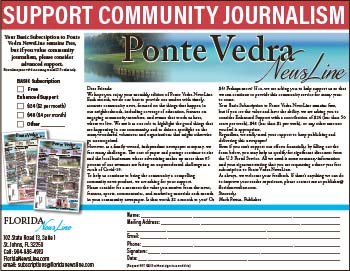 At the time, Spencer's husband was deployed in Afghanistan, shortly after they were married in 2012. Spencer was living in Massachusetts and was facing the holiday without her husband and wanted to send him a card. She wondered if anyone else would also want to spread holiday cheer and gratitude to all of the active duty military members through cards. 
After the Christmas card response, Spencer again posted on Facebook, requesting Valentine's Day cards. This time 23,000 were received, and Heartillery, now based in Ponte Vedra Beach, was created. 
"We received cards from people all over the world, and you could tell that it really instills a sense of community," said Spencer. "It became a very affordable way for people to say thank you to someone they did not even know." 
Heartillery now collects cards throughout the year for all military branches and also sends care packages with donated toiletries. The biggest deliveries are made for Christmas and Valentine's Day, with cards being sent out in boxes of 350, costing $18.45 to ship one large flat rate box. 
"Our whole purpose is to bring our community together and to bring communities together overseas," said Spencer. "This also teaches kids to do something for others. It becomes a nice lesson as well." 
Spencer's husband, Scott, an Army Transportation Officer on inactive Reserve since 2010, said he was both surprised and impressed by how quickly Heartillery grew. Scott Spencer currently works at Crowley Maritime Corporation, but can still be deployable at any time. 
"Anytime you get mail overseas, it definitely makes your day," said Scott Spencer. "I am really proud of my wife and of the team she has put together. It is a small thing to send a card, but it is a great gift to receive." 
The Spencers have two young children and moved from Norwood, Mass. to Ponte Vedra Beach two-and-a-half years ago for Scott Spencer's job. Emily Spencer also works as the director of operations for Dodds Wealth Advisors. 
Heartillery, volunteer run, also includes high school and college students who gain experience in public relations, sales and marketing. Emily Spencer said she is so grateful to her volunteer board. 
"I could not do this without my volunteers and the community support. This has been a powerful and moving experience," she said. 
Ponte Vedra High School senior Marisa Gonzalez said she has been honored to work with the Heartillery Group. With an emphasis in marketing at the high school for the last four years, Gonzalez has recently designed several flyers for Heartillery and is leading the public relations side for the group. She also assists with promoting Heartillery through social media and has been contacting local schools to encourage  participation in the holiday card drive.
"I am so thankful for our troops and appreciate the sacrifice they give up for our freedom," said Gonzalez. "The Heartillery Group is an amazing organization that helps our troops and their families in times of need. I am so grateful for this opportunity that Emily has given me."
Heartillery's goal right now is to send out 500,000 holiday cards with a deadline of Dec. 12. 
If interested, fill out a box of holiday cards and send them to the Heartillery Group, P.O. Box 2649, Ponte Vedra, FL 32004-2649. For more information, to volunteer or to make a donation, visit http://heartillerygroup.org or call (781) 680-5553. 
Photos courtesy Heartillery Group