By Tiffany Merlo Phelps 
mail@floridanewsline.com
When Shealyn Frederick takes adaptive riding lessons at Bit of Faith Ranch, something special happens between her and the horse, Comanche.
"There is a calming bond that takes place between the horse and my daughter," said Joel Frederick, who has been bringing his 17-year-old autistic daughter to the Ponte Vedra ranch for six months. "Riding has almost become muscle memory for her now. She gets in a zone and knows what to do."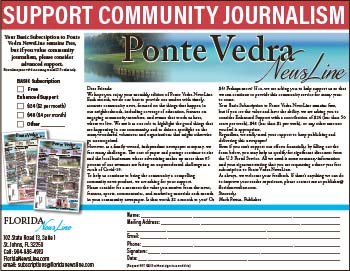 Joel Frederick said self-regulation can sometimes be challenging for Shaelyn, but once on the horse, Shaelyn's posture and demeanor changes.
"She sits up straight, and she is able to be calm," said Frederick. "The staff is extremely friendly and really accommodating. They walk them through the basics. Shaelyn also really benefits from the movement."
Frederick said he appreciates the social aspect of the ranch as well and the sense of community that is extended to both participants and parents.
It is a sentiment that is echoed by parent Kristi Gee, who has been bringing Owen, her 20-year-old son, to the ranch since it opened. Owen suffers from a seizure disorder.
"It is about the community, and he is accepted for who he is," she said. "You develop relationships with people who understand the life that you have. We have become a support system for each other."
Bit of Faith Ranch founder and executive director Tammy Romancuk said her not-for-profit focuses on riding, recreation and respite. Romancuk founded Bit of Faith Ranch in 2020 in the middle of a pandemic after her non-verbal son, Shane, spoke while horseback riding.
"It really blew me away," said Romancuk. "After the ride, he just lay on the horse. He was so at peace and so relaxed."
Romancuk was inspired both by her son's reaction and a desire to help others with disabilities. The ranch, coincidentally located off Ranch Road, is also home to cows, goats and chickens on about 10 acres of land.
For Romancuk, Bit of Faith combines two of her passions — horseback riding and helping people of all ages with disabilities.
"Once I started riding lessons at 10 years old, that was it. I was hooked. It is so calming for me," she said.
Bit of Faith Ranch offers adaptive riding lessons, which Romancuk describes as recreational horseback riding, to those impacted by autism and related conditions. There are 30 riders currently in the program from the minimum age requirement of five all the way to participants in their 40s. There is currently a waitlist to get into the program, and it is free of charge for caregivers and parents. Romancuk said she wants the lessons to remain free and is reliant on donations in order to continue to do so.
Romancuk said that it takes very special horses to be equine partners in an adaptive riding program.
"They must be very calm, friendly, and easy to handle. Our horses are definitely heroes," she said.
During the sessions, parents and caregivers often enjoy a much-needed break, another key component of the non-profit.
"Riding is just one part of what we offer. The other pieces came out after seeing a need with the parents. Caregivers and parents of children with autism are always 'on.' When your kids come to ride, we want you to enjoy the great outdoors and simply take a rest," said Romancuk.
Board President Cari McGowan said the ranch focuses on moms by offering a moms' night out as well as a moms' retreat. It is a place without judgment where moms can share similar struggles, offer advice and lift each other up, she said.
For the recreation component, the ranch also organizes movie outings, waterpark visits and a horse show where participants become "equestrians" — an official athletic title that some riders may not have experienced having before, said McGowan.
Over the past three years, Bit of Faith Ranch has had 60 volunteers, logging in 2,500 volunteer hours, McGowan said. Volunteers are essential as six volunteers are needed per session. Participants will usually spend 15 minutes riding and 15 minutes grooming the horse during each session with some families returning for multiple seasons.
"It is a very organic approach. Once someone rides with us, they are a part of the community," said McGowan.
Volunteer Taylor Lumpkin, 14, has been helping at the ranch since 2020.
"I love Bit of Faith Ranch because I enjoy seeing the kids' faces light up whenever they arrive," said Lumpkin.
[Author's note: To learn more about Bit of Faith Ranch or to make a donation, go to www.bitoffaithranch.org. McGowan said the ranch is looking for a corporate sponsor and is always in need of volunteers.]
Photo by Tiffany Merlo Phelps
Shealyn Frederick during a riding lesson at Bit of Faith Ranch with volunteers.