By Angela Higginbotham
angela@floridanewsline.com
St. Johns CARES, a nonprofit organization committed to helping local charities in St. Johns County, recently organized the area's first ever Kids Farmers Market at Greenleaf Pavilion in Nocatee. The successful event took place on June 10, 2017 and an estimated 180 people came out to shop from 15 kid vendors. Attendees also enjoyed carnival games, bounce houses and face painting all in support of local charities.
"The market was created as a way for kids to demonstrate their entrepreneurial spirit while helping out a great cause. We were thrilled with the turnout and support from the community," said Jill DAmato, St. Johns CARES board member. "A little over $700 was raised and the kids also had a great time while learning the value of community service."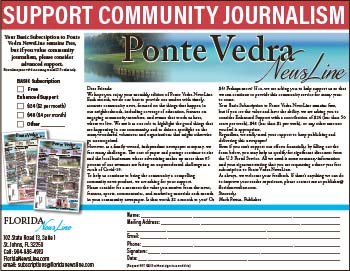 Kids up to age 16 were invited to sell their goods. The proceeds from registration went to benefit St. Johns CARES and the children kept the earnings of their sales. The selection of handmade merchandise included baked goods such as Kushava Cookies, art by Evie & Reese's Treasure by the Sea, and a group of Greenleaf Lakes children sold bracelets, necklaces and flowers to raise money for the food bank.
Ten-year-old Beckham Alexander sold sweet treats and planned to donate his earnings to the JDRF Diabetes Foundation. Beckham was diagnosed with type 1 diabetes earlier this year. He and his friend, Sam Thornton, enjoyed sampling their own sweets at the event.
"I can enjoy a few sweets like everyone else, I just have to have mine with insulin. I want to raise money for JDRF so they can figure out an easier way that doesn't involve needles," Beckham said.
When St. Johns CARES learned that Sound Connections, the musical therapy program serving local schools, was at risk due to lack of funding, Kiddie Academy graciously decided to offer the carnival games' proceeds to help out. St. Johns CARES and St. Johns CARES Kids also thank Bartram Academy, the Learning Experience, Ameris Bank and Fun 4 First Coast Kids for making this event so successful.
Photo courtesy St. Johns CARES
Beckham Alexander and Sam Thornton sold sweet treats to benefit the JDRF Diabetes Foundation.