Q: Can you give your thoughts on the funding that the St. Johns County School District is allocated in the budget just passed by the Florida State Legislature?
A: We are very grateful to our local legislative delegation of Senator Travis Hutson, Rep. Cyndi Stevenson and Rep. Paul Renner who advocated for our school district and were successful in allocating $11.4 million to us. We very much need these funds, especially in light of the 7.2 percent growth in the school district last year. We very much hope that Gov. DeSantis allows this funding to remain in the budget when he signs the final budget approval. 
Q: What is a priority use for this funding?
A: We continue to work on our borrowing capacity and this $11.4 million would be a big help in moving the timeline forward to build another new school. We already have K – 8 School "NN" planned to build in Shearwater, and we would like to move forward with K – 8 School "OO" in a location still to be determined. It's important to note that the last K – 8 school that we built, Pine Island Academy, cost approximately $44 million, and this was before the current labor and materials shortages.
Q: Did the school district receive any other good news from this legislative session?
A: Yes, we are also grateful that the base student allocation was increased this legislative session by $214 per student to $8,100. The lion's share of that increase will go toward raising pay to at least $15 per hour for all school related employees by the October deadline.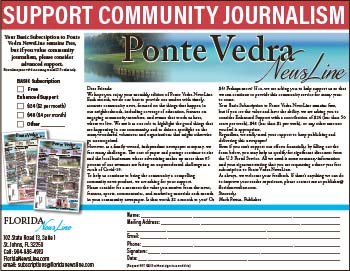 Q: Do you have an update on Beachside High School?
A: This school's construction is moving forward, with interior work, curbing, and covered walkways all being worked on. We have learned that all academic areas will be completed in time for the fall 2022 opening of the school, but the auditorium and some ancillary facilities might be delayed due to the materials and supplies shortage.
Q: What's on the horizon for technology in St. Johns County Schools?
A: We have a number of tech upgrades that we are hoping to make next year. We received feedback from different focus groups, SAC committees, and task forces, as well as Florida Department of Education guidelines to make these determinations. Some of our plans include working on network switching, upgrading WiFi standards and equipment at 40 schools, continuing to expand our cybersecurity defense measures, purchasing new student computers and maintaining/replacing our current equipment.
Q: How can our readers contact you?
A: They can email me at kelly.barrera@stjohns.k12.fl.us or call me at (904) 547-7510.