Q: Do you have an update on the latest school rezoning proposal?
A: At our last School Board Workshop, we announced that we had acquired financing and would be moving forward with two new schools to open in fall 2026. One will be located in the Seabrook area of Nocatee, so instead of rezoning students in this area now, they will remain at Pine Island Academy until their new school opens in 2026. We will vote on this new rezoning proposal at our Nov. 14 School Board meeting. With the addition of these two new schools, we will be opening five schools in three years.
Q: Have the Teachers and Rookie Teachers of the Year been announced for each school?
A: Yes. I'd like to recognize and congratulate the teachers from District 4 (Teacher listed first, then Rookie):
Landrum: Samantha Gayso and Kyle Speed
Nease: Duane Spears and Sean Schoeneman 
Ocean Palms: Jennifer Smith and Kali Wiley
Palm Valley (Elementary): Al Henson, III and Christina Walzel
Palm Valley (Middle): Carrie Lieffers
Pine Island (Elementary): Brittany Boden and Skylar Derr
Pine Island (Middle): Kristan Arnold and Jacob Munger
Ponte Vedra High: Katherine Baer and Kristen Noon
PVPV/Rawlings: Kimberly Caldwell and Madison Hamby
Valley Ridge (Elementary): Kristen Anderson and Samantha Calascione
Valley Ridge (Middle): Holly Nover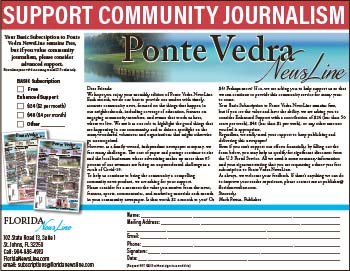 Q: Which employees have been honored as School Related Employees of the year?
A: We will honor these employees at a recognition ceremony on Nov. 15. For District 4, we have: Craig Orzolek, custodian at Landrum; Karen Cornelius, executive secretary at Nease; Michele Cardona, PK paraprofessional at Ocean Palms; Pedro Duarte, custodian at Palm Valley Academy; Ashlee Henderson, registrar at Ponte Vedra High; Kenry Gonzalez, maintenance coordinator at PVPV/Rawlings; Keri-Ann Hardy, bookkeeper at Valley Ridge Academy; and Cory Lewis, maintenance coordinator at Pine Island Academy.
I always say that great schools come from great students, great teachers, great employees and great volunteers — and we have them all in St. Johns County.
Q: Do you have any kudos to share?
A: On Oct. 18, I attended the Character Counts! Community Partners program, where eighth graders were recognized for their character. They spoke about what Character Counts! means to them and identified their favorite pillar. Congratulations to Jaiton Byers from Pine Island (Business Partner, the Richardson Group); Ellana Harper from Landrum (Business Partner, Surfside Pools and Spas); Averie Harkness from Palm Valley (Business Partner, RE/MAX Unlimited); and Owen Anderson from Valley Ridge (Business Partner, Brightway Insurance).
I'd also like to congratulate Mira Bhutani, an Academy of Biotechnology and Medical Research student at Ponte Vedra High, who was chosen as the CTE U.S. Presidential Award recipient/representative for the St. Johns County School District.
Q: Do you have anything else to share with District 4?
A: In October, the school district recognized "Disability History and Awareness." I'd like to recognize and thank Vicar's Landing in our district for their support of these students. Vicar's Landing offers hands-on job training, internships, and the opportunity for full time jobs.

Q: How can our readers contact you?
A: They can email me at kelly.barrera@stjohns.k12.fl.us or call me at (904) 547-7510.