Q: The parking lot at Mickler Beach can no longer accommodate all of the residents who want to go to the beach. The lot fills quickly on busy days, and families are forced to find beach parking elsewhere — sometimes having to pay for it at GTM, and even those lots overflow on busy days. How are you planning to address this problem at Mickler, the most-used beach in St. Johns County? Would the commissioners consider purchasing additional beach frontage in Ponte Vedra beach to accommodate the frequent overflow?
A: Prior boards of county commissioners have looked at this issue as well over the years as it is a well known issue. We do have a couple of options on the table, which staff is considering — as they need review and present the options to the commissioners. First, there is the option to purchase additional land and secondly is the possibility of a private/public partnership to address the issue. The board has not made any decision yet, but staff is working on their review.
Q: Do you have an update on the Town Hall meeting you planned for May?
A: The Town Hall meeting we had scheduled for May will have to be rescheduled due to availability of a couple of the participants. We hope to reschedule it relatively soon and will communicate the new date and time when it is determined.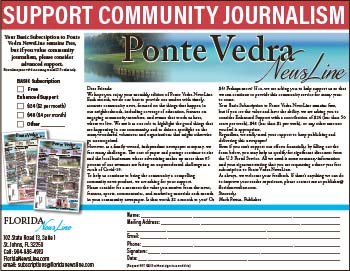 Q: What is the best way for our readers to contact you?
A: Readers can email me at bcc4jblocker@sjcfl.us or call me at (904) 679-2620.