Volunteers needed for memory care
The Council on Aging's new Memory Care Center is now open at 1050 A1AN in Ponte Vedra Beach and volunteers are needed. Positions include Memory Enhancement program assistants, clerical help and receptionists. Volunteers are needed preferably on Mondays from 8:30 a.m. – 2:30 p.m., but hours can be flexible. Call (904) 209-3686 or email aleach@stjohnscoa.com if you are interested.
GTM Research Reserve offers guided beach exploration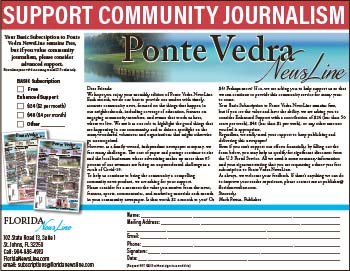 On March 19 from 8:30 a.m. – 10:30 a.m., the GTM Research Reserve will hold an interpretive guided beach walk at the Guana south beach location. This free walk is held the third Saturday of each month. Walkers can learn about the animals that call the beach their home as well as seashells and other interesting facts.
Park at the GTM Research Reserve South Beach Access Lot, 1798 Ponte Vedra Blvd. (A1A) in Ponte Vedra Beach. There is a $3 per vehicle parking fee. Space is limited; RSVP by providing your email and phone number at https://gtmresearchreserveexplorations.eventbrite.com or by calling (904) 823-4500.
Green industries class offered
Lawn care professionals and landscapers who apply fertilizer are required, by state law, to have a license in order to apply fertilizers. A GI-BMP class certificate indicating you received a passing grade is a prerequisite to applying for this license. The St. Johns County Extension and IFAS University of Florida are offering the GI-BMP class on Friday, March 4 from 8:30 a.m. – 3:30 p.m. at St. Johns County Wind Mitigation Building, 3111 Agricultural Center Dr. in St. Augustine. The cost is $10, which includes lunch and all materials. Pre-registration is required by Monday, Feb. 29; call (904) 209-0430.
Nocatee residents invited to special event
Nocatee will host the second Nocatee On Tap beer tasting event on Saturday, March 5 from 7 p.m. – 9 p.m. Attendees will sample beers in an atmosphere filled with live music, delicious foods available for purchase from food trucks and yard games. This special resident event will feature a large variety of local craft beers; residents must be 21 or older. Tickets will go on sale at $20/person starting Monday, Feb. 22 at through Resident Services, (904) 924-6850.
Learn at lunch at The Players Community Center
The Players Community Center, 175 Landrum Lane, will host a special six-week Lunch and Learn session on Mondays from March 21 to April 25 entitled "Who Am I?" Local author Robert Gold will teach attendees how to writ a memorial about their lives — stories about successes, loves and experiences to share with children and grandchildren. Lunch will be available at 11:30 a.m. and seating is limited. Call 280-3233 to register or visit www.coasjc.com for more information.