By Martie Thompson
editor@floridanewsline.com
On May 18, the Vicar's Landing Member Trust celebrated its 25th year of granting scholarships to Vicar's Landing employees, continuing a tradition first established in 1994. This year, 88 employees received general awards up to $2,500. Also, 23 Special Scholarships, ranging in value from $1,000 to $3,000, were granted. The special awards are given in addition to the general awards.
According to Bill Tickle, chair of the Scholarship Committee, recipients may use the general scholarships for anything from trade school to college classes to English courses. The Special Scholarships are generally awarded to employees attending a four year college or the equivalent or even post graduate studies.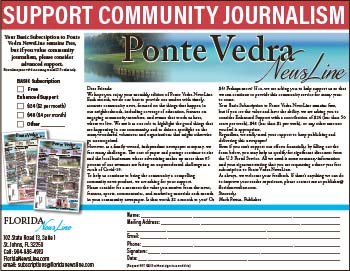 "General scholarship recipients meet requirements such as length of employment and number of hours worked, plus they need the recommendation of their supervisor," Tickle said. "Special scholarship recipients have to meet these guidelines plus write an essay and have a stronger supervisor recommendation."
Tickle said that more people apply for the special scholarships than the committee can award, so they rely on the essays and the supervisor recommendations to make their decision.
The total awards this year amounted to $261,500. Since the scholarship program began, more than $4.7 million has been awarded. The scholarship program was initially established by a dedicated group of Vicar's Landing members who understood the value of education and wanted to provide opportunities for hard-working employees at Vicar's Landing. Eleven scholarships were awarded in that first year.
Due to the generous support of Vicar's members, the  program continues to flourish. Each year, additional funds are received from the annual Vicar's Boutique, other fundraising programs and endowments. This year, the Vicar's Boutique will take place on Nov. 12, 2019.
"I was pleased to be asked to join the Scholarship Committee, made up of about six Vicar's Landing residents, four years ago. This is my third and final year as chairman of the committee," Tickle said. "It's apparent, and I believe most residents would agree, that awarding the scholarships is one of the most important things we do here at Vicar's Landing, because we are helping our employees."
Photos courtesy Toni Porterfield
Bill Tickle, chair of the scholarship committee.