By Kelly H. McDermott
mail@floridanewsline.com
Chez Vincent French Restaurant in Winter Park, Fla., became the backdrop for an historic ceremony last month as veterans of World War II gathered to be celebrated and thanked by France. These men were awarded the French Legion of Honor, the highest decoration that can be awarded by France to any citizen or foreigner. Among the 14 Floridian veterans honored that day was Army and Air Force veteran Maj. Howard Michael Spencer of Ponte Vedra.
The French Consulate General of Miami presented the decorations on April 15. All veterans gathered fought in one of the four main campaigns of the liberation of France: Normandy, Provence, Ardennes and Northern France.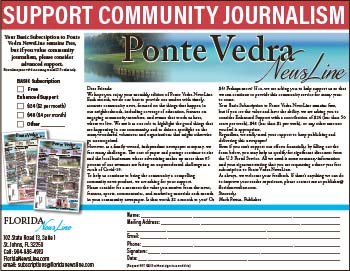 Spencer, 95, was a fighter bomber pilot during the war, and was part of a squadron assigned to defend the ground efforts of Gen. George Patton during the Allied invasion of Normandy.
Spencer piloted a P47 Thunderbolt, armed with a 500-pound bomb under each wing and eight forward firing 50 caliber machine guns.
"We just chased Patton every place he went," Spencer said. "We protected him."
The self-described "ex-farmboy" didn't start with aspirations of flying, however.
"I used to look at airplanes going over and think it'd be nice to fly someday — but I never thought I'd do it," Spencer said. "The war changed my mind quickly."
Spencer was just 21 when he enlisted — the day after the attack on Pearl Harbor. Spencer had been enjoying a movie with friends when the attack happened.
"I found out that the Japanese had just destroyed part of the Navy," he said. "I thought a little bit and I read a little bit — and thought a little bit more. I enlisted the next day. That was my start in the Army."
Spencer enlisted during a time period when he says there were more airplanes than pilots — and after moving, becoming an aviation cadet and training other pilots, he was assigned to the war zone in Europe.
Spencer flew 89 missions during the war.
"It was kind of an exciting time for a small country boy that got involved — but it wasn't pleasant," he said. "You're going out where people are going to try to kill you every day. So 89 times, I had to think about that."
After that, Spencer had a successful business career that took him around the world with his wife and four children. Spencer and his family lived in Australia, Holland and China — moving a total of 26 times before he retired in 1988 at the age of 67.
Spencer said he and his wife were "totally impressed with Ponte Vedra," and moved there from Hong Kong.
Even in his retirement, Spencer has stayed busy, working out regularly and always learning new things to keep his mind sharp.
"I don't want to — nor do I intend to — grow old," Spencer said with a laugh. "I have my life to lead in a way that I enjoy."
Spencer said that he has decided to live to be at least 102.
"I one day sat and meditated for quite a while, looking at the ocean," he said. "I've had a great life, and I've enjoyed almost all of it."
Photo courtesy Thomas Spencer
The ceremony on April 15 was hosted at Chez Vincent, a French restaurant in Winter Park, Fla., by the Consulate General of France in Miami.
  Photo by Kelly H. McDermott
The French Legion of Honor was created to reward eminent military and civil merits in the service of France, according to the consulate's website. It is the highest distinction that can be conferred in France on a French citizen or foreigner.