By David Lifka
mail@floridanewsline.com
It's hard to believe, but there are shrimp in the river right now. Unfortunately in Duval and St. Johns counties, the months of March and April are closed to shrimping. Winter shrimp in our area of the river is not unheard of, but it is somewhat of a rare occurrence. With a milder than normal winter, and a shortage of rainfall occurring, conditions have been right for shrimp to be much farther up the river than usual for this time of year.
With the presence of shrimp in the river, you can expect fish to be there too. Yellowmouth and croaker should be right there with the shrimp, along with reds, seatrout and even flounder on the docks. Barring any unusually heavy amounts of rain, here or down river, we could be looking at an "instant-on" fishing season for the river in 2017.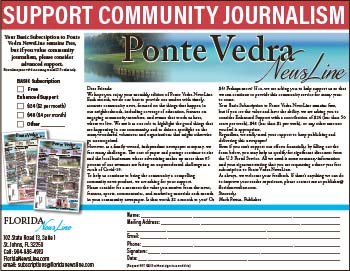 Right now, largemouth bass should be either coming off or on the bed depending on the body of water you are fishing. Bass beds can usually be easily spotted along shorelines this time of year. If you happen to see a white, circular, sandy bottom area in a couple feet of water close to shore, you are probably looking at a bass bed. Largemouths are known for their bodacious appetites before and after bedding, making early spring the best time of year to fish for them. Almost any artificial bait is going to work really well this time of year, but a live shiner is going to be hard to beat for anyone seeking a trophy.
Whether fishing fresh or saltwater, it seems the state's fishing regulations become a little harder to follow and understand each year. Changes to regulations seem to occur regularly, making it difficult for anyone to rely on their memory for open and closed seasons, sizes and limits. To help avoid confusion when fishing any body of water make sure to have a current list of regulations and a fish identification guide with you. And remember when fishing Florida, not all bodies of water or areas of the state are regulated the same.
Fishing Report: Whiting at the beach. Dead shrimp in the surf can produce a cooler full of fish this time of year. Area creeks, lakes and ponds are all providing good largemouth fishing. Yellowmouth (weakfish) in the usual deeper holes in the river. Try cut croaker for larger fish.
Whether you catch one, some, or none, the family time spent fishing will last a lifetime.