By Jimmy Tomazinis
mail@floridanewsline.com
I hope everyone had a great September. Good numbers of shrimp showed up in our area of the river and with a little work some freezer stocking was possible. Fingers crossed that they stick around a little while longer. The mullet run started in earnest earlier in the month and for a few days it seemed there was a constant stream of mullet from Fernandina to St. Augustine. If you were lucky enough to be in the right place at the right time, there was some great fishing to be had and quite a show if nothing else. Let's hope they stay around too.
I got to talking about transitions in last month's report. September is typically the beginning of our fall transitional fishing period, but by October it's in full swing. Water temperatures begin to creep down, warm water fish head south, and our local temperate water species really start fattening up in one of the last bountiful months of the year. Take advantage of that.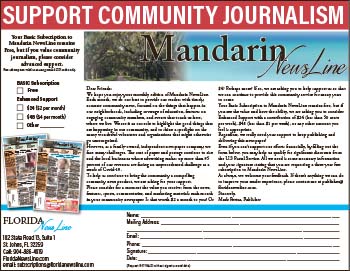 Hit the surf to target pompano, whiting, and just about anything else as the water temperatures get in the 70s. Keep in mind that if you're specifically after pompano, it will be worth your time to look for favorable conditions — good water clarity being the most important. Clams, sand fleas, and the freshest shrimp you can get are my baits of choice. Get live shrimp at the bait shop and throw them in your cooler. Keep them out of your ice though.
Close to home, the river will continue to reward those using shrimp. Stripers will fire off with the cooler water and have a lot more energy to pull against. Fishing local shell beds can produce hefty croakers and yellowmouth trout. Drop a piece of crab in some of the same areas for redfish. Flounder will be on docks and drop offs. Target them with shrimp tipped jigs or finger mullet if you want to use live bait. Gulp can produce just as well sometimes. Work areas slowly and methodically. They are ambush predators, so present them with an opportunity. Remember flounder regulations recently changed, so familiarize yourself with those if you're wanting to keep one.
If I could pick just one month to fish in our area it would be a toss up between September and October, so take that for what it's worth. Go get 'em.