Q: Have jury trials resumed in St. Johns County?
A: Civil and criminal jury trials have started back up as of the end of March. We have a great relationship with our court partners and look forward to moving ahead. We do have a pretty significant backlog due to the suspension of trials during the pandemic. The state of Florida has approximately one million cases pending. Readers of this column should keep their eyes open for potential jury summonses arriving in the mail.
Q: What can you tell us about the new St. Johns County Memorial Garden?
A: The center courtyard of the judicial complex will be re-landscaped and renamed the St. Johns County Memorial Garden. We envision it to be a centerpiece for visitors and guests to be able to take a moment and collect their thoughts. We will incorporate the existing Victims Garden and move it inside the courtyard to be part of the Memorial Garden. We expect it to be finished by fall, when we will hold a ribbon cutting ceremony.
Q: What else do you have to share with northern St. Johns County citizens?
A: For the 28th consecutive year, the Clerk's Office was awarded the Government Finance Officers Association Certificate of Achievement for Excellence in Financial Reporting for our fiscal year 2019 annual report.This highlights the transparency and accuracy of our financial report, which is available online. People come to St. Johns County for the quality of life and management of taxpayer dollars is a big part of that.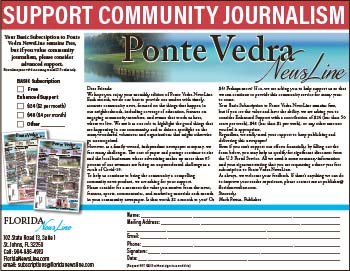 Also, our Inspector General's office has met the initial entry requirements to become accredited by the Commission on Florida Law Enforcement. For a 24 month period, the commission will assess our Inspector General's office to ensure the highest standards of professionalism. Successful completion of this results in accreditation. Only four Clerks of Courts' Inspector General offices in the State of Florida are accredited. The Inspector General's office investigates and audits county government entities as well as waste, fraud and abuse cases.
Q: What is the best way for our readers to contact you or your office?
A: A lot of questions can be answered by visiting our website, www.stjohnsclerk.com, which is most commonly used to pay traffic citations or search court records. People can also call our main office at (904) 819-3600.