By Debi Lander
mail@floridanewsline.com
My love of photography often takes me to places off the grid. One such detour in Croatia took me to Plitvice Lakes National Park (PLEET-veet-seh), renowned for its breathtaking lakes. The park lies about two hours from Zagreb or the coast. I hopped a train to Zagreb, the capital, arranging a pick up the next morning for a day trip to the National Park.
One of Croatia's most popular tourist attractions, Plitvice achieved UNESCO World Heritage status in 1979. The lakes draw visitors, but make up only one percent of the park's beech and fir forest. Twelve upper lakes lie on dolomite surfaces and four lower lakes on limestone known as karst. A series of cascading waterfalls separated by natural travertine dams connect the lakes. The karst makes the lakes glisten in hues of Jacksonville Jaguar teal, brilliant emerald, and azure blue.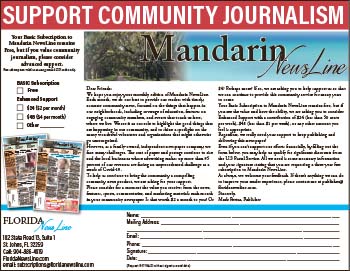 The tour guide escorted my small group through the park entrance, explaining the trails and transportation system. We were then free to hike at our own pace, take a boat and bus ride, and return to the meeting spot five hours later. This plan allowed each person to go at their desired speed, stopping wherever the view compelled them.
I started down a paved trail with my travel buddy, Judy. We'd barely gone 20 feet when we discovered a magnificent overlook showcasing the aptly named Big Waterfall, 250 feet high. Its depth reminded me of the Grand Canyon, but here a turquoise lake anchored the dramatic drop. The gorge walls released water in lacy fairyland tendrils. I'd been expecting stunning waterfalls, but this view made me feel like I was floating through a dream. I stared in awe, enjoying a Zen moment.
Eventually we trotted off, as countless more waterfalls waited. Descending a zigzag course, at times steep, we came upon boardwalks hovering just above the water. The walkways provide an intimate connection to the surroundings. They have no handrails so you must watch your step. For the unsteady the extreme shallowness of the lake is comforting.
Proceeding onward, more unusual land formations and hundreds — no, thousands — of miniature falls emerged. Finally, a restaurant and outdoor picnic area beckoned. We gobbled down lunch, then boarded the park's silent, pollution-free electric boat to cross the park's biggest lake. After what I'd seen, Lake Kozjak didn't impress, but I enjoyed the restful ride. The landing spot presented a bonanza of gurgling and gushing fountains. They reminded of the scene in the movie "Fantasia" where the water never stops.
Judy and I chose to hike the longer trail, but didn't realize just how lengthy it was. I must admit Plitvice could use better signage. We ended up walking seemingly endless miles, some on dirt trails, others on planking. As the afternoon wore on, we began to wear down. Still, we heard a waterfall rounding every corner, and catching sight of it, we'd sigh, "Oh my, how gorgeous." Thrilling though it is, this park produces scenic overload. Exhausted, but delighted we finally climbed up to the bus station and rode to the trailhead. We still had to hike back to the entrance.
To spend a day in an area of concentrated beauty, to breathe, and listen to nature is an intoxicating joy. Compared with the majesty of Yellowstone, Yosemite, and Niagara Falls, Plitvice is otherworldly. Is it worth a trip to Croatia? Absolutely. One of the best gifts I have ever given myself.
If you go: The park gets overcrowded in the summer. I went in April, which seemed ideal — not too hot or cold.
Visit www.bylandersea.com to read more of local travel writer Debi Lander's stories and travel tips.
Photo courtesy Debi Lander
Waterfalls in Plitvice Lakes National Park