By NewsLine Staff
mail@floridanewsline.com
It's hard to believe, but planning for the 2024 Mandarin Art Festival, to be held over Easter weekend at the end of March, will begin this month.
"We need you!," said Mandarin Community Club President Susie Scott. "Being a Festival volunteer is a fun way to be a part of this generations-long Mandarin tradition established in 1968 at the historic Mandarin Community Club, but dozens of volunteers are needed to pull it off."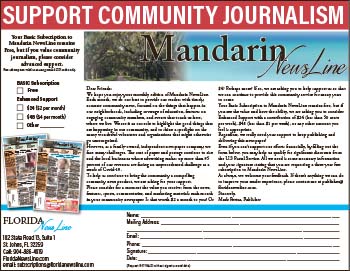 The 2023 Festival had some weather challenges, but still hosted thousands of guests who strolled through the more than 100 fine art and fine craft artist booths, a locally sourced Green Market, the Children's Art Show representing a dozen local schools and a food court with an array of different food choices.
The Festival needs include a paid position as Show Manager, whose job at the top is to coordinate committee chairs for Artist Operations, Advertising and Promotion, Show Operations, Grounds and Facilities, Green Market, Food Court, Parking, Fundraising, Sponsors and Program Sales, Gate Entry, Club Tables, Bake Sale, Hospitality, Show Grounds, Children's Art Show, Registration, Volunteer Coordination, Entertainment, Civic Booths and Children's Activities.
Scott said, " This all seems like an impossible task, but the Mandarin Community Club has been doing this since 1968 and it's been a growing success each year because of volunteers and community partners as sponsors and donors."
Call the Mandarin Community Club at (904) 268-1622 or email mandarincommunityclub@gmail.com to get on the notification list to attend the first planning meeting in September for volunteers or for information on sponsorship/advertising at the start of the process of building a high quality, multi-generational event once again.
Photo courtesy Susie Scott
The Mandarin Community Club is seeking volunteers for the 2024 Mandarin Art Festival.