By Captain David Lifka
mail@floridanewsline.com
We are finally reaching the summer months when the best St. Johns River fishing action begins to occur. So far this spring, a noticeable increase of baitfish, such as finger mullet and early shrimp, are positive indicators of good fishing soon to come.
Like every summer, we can expect a croaker run to start early and last through fall. Redfish will be on docks and pilings, and eventually end up schooling in the river's channels. Flounder, weakfish, and numerous other saltwater species will also be part of the mix.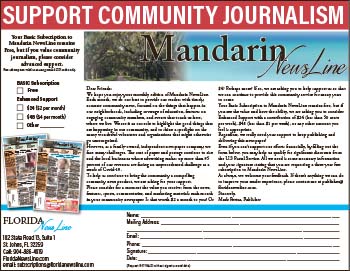 For many, their favorite time of our summer fishing season is when the shrimp begin to run in the river. Usually by middle or late July, shrimp will have begun their exodus from St. Johns. As the summer progresses, the quantity and quality (size) of the shrimp will increase.
Salinity and the presence of shrimp will be the greatest contributors to the success of this year's fishing season. Too much rain usually has the most influence on both these contributors. Normal summer thunderstorms are just fine and needed, but any kind of tropical disturbance anywhere along the river can often disrupt good fishing and a summer shrimp run. Remember, the St. Johns River flows north. At any time, 10 or 12 inches of rain in Central Florida will end up coming this way.
Remarkable numbers of folks have been taking advantage of the outdoors in recent weeks as an apparent response to the loss of other activities due to coronavirus restrictions. Boat ramps on weekdays now look like how weekends used to, and weekends now look like the 4th of July. Whether it be hiking, biking, paddling, fishing from a boat, fishing from the surf, or a round of golf, people now seem to be getting outside more and learning to enjoy the great outdoors. Perhaps this could be one positive change in lifestyle that will last long after the pandemic has passed. Wouldn't that be great?
Fishing report: Time to start looking for a croaker or two in the river. Whiting in the surf along with a few bonnethead sharks. Plenty of bream in the shade of area creeks.
Whether you catch one, some, or none, the family time spent fishing will last a lifetime.