By NewsLine Staff
mail@floridanewsline.com
On Oct. 25, 2021, Alex Hopkins, Kansas City University's Director of Alumni Development and Chris Gomez, Director of Major Gifts and Planned Giving, presented the 2021 Star-Spangled Banner Medallion Award to Dr. William P. Bosworth, a Class of 1972 graduate of Kansas City University. The Star-Spangled Banner Medallion honors a Kansas City University graduate physician or scientist who exemplifies the university's core values through service to the United States of America.
The San Jose Rotary Club nominated Dr. Bosworth, a 1972 College of Osteopathic Medicine graduate from University of Health Sciences, for the Star-Spangled Banner Medallion Award. John W. Curtin Sr., president of the San Jose Rotary Club and a retired Captain with the United States Navy, wrote in his nomination for Dr. Bosworth: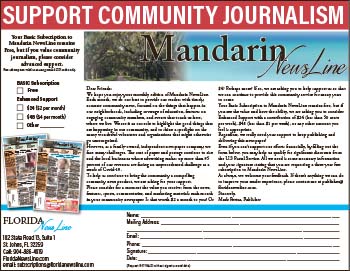 "'Dr. Bill,' as he is affectionately known, is extraordinarily qualified for this deserving recognition. At age 85, he is soon to be a fully retired physician. But over the last 46-plus years, Dr. Bill has served his community and his nation, providing caring, professional, personalized health care to those in need. He stands out and epitomizes what you expect from someone in his profession.
"Dr. Bosworth served in the United States Navy, retiring from the United States Naval Reserve as a Captain. He served 23 years prior to his retirement and then volunteered monthly for no pay for the next 17 years.
"Dr. Bosworth has been an active Rotarian and was a former club president for almost 45 years, serving from 1975 until 2020. As a founding member of the Mandarin Rotary Club and San Jose Rotary Club, he has been deeply involved in Rotary and the work his club has done in the community.
"He has always given of his time and treasure to support the efforts of Rotary International. He is a 10-time Paul Harris Fellow, a significant achievement in itself, giving supporting funds to the Rotary Foundation to help those in need around the world.
"As a volunteer, Dr. Bill served his community in many ways. He was a leader and an outspoken advocate. He served on the Duval County School Board and has always been a strong advocate for the education of our young people.
"Dr. Bill developed many other passions along life's journey, including The Freedom Foundation of Valley Forge; the Sons of the American Revolution; being an active member of Mandarin Presbyterian Church; and many more.
"Most of all, Dr. Bill was a medical professional. If you were one of his patients, you knew you could call upon him when needed. That didn't mean call him during normal working hours, because he is still a doctor 24/7. The most-important thing in the world to him was helping others. He absolutely loved his profession. He truly loves helping others. He always had time for everyone, and he makes everyone feel like they are most important.
"Dr. Bill has been married to his lovely wife, Wanda, for over 30 years. They have raised a wonderful daughter who is also an activist just like her father, involved in her community.
"Dr. William Bosworth, DO, a retired Captain in the United States Naval Reserve, is a patriot, an extraordinary citizen volunteer of our community, a leader of men, and a compassionate health care professional who is most-deserving of this award."


Photo courtesy Bret Silvis/Kansas City University 
Dr. Bill Bosworth with his wife Wanda Bosworth.