By Courtney Clark
mail@floridanewsline.com
The Teacher Supply Depot has been in Jacksonville for almost two decades. The Depot collects donated materials to give to district schools; since 1996, hundreds of contributors have donated more than $20 million in supplies, helping more than 20,000 teachers, principals and PTA presidents. One of the Depot's founders, Chris Buckley, not only serves the Depot but is also a significant contributor to the Mandarin community.
Buckley took a break from her busy schedule to answer some questions about her volunteer time. When she isn't working with the Depot, Keep Jacksonville Beautiful, Mandarin United Methodist Church's Homework Help, Earth Day Jacksonville, the Mandarin Senior Citizen Center or other organizations, she enjoys collecting shells in Sanibel, looking for shark teeth on local beaches, hiking and spending time with her granddaughter.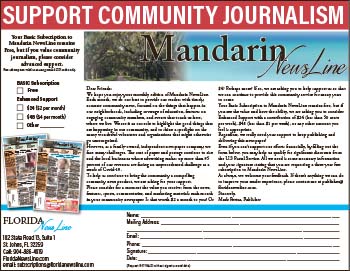 How and why did you start the Teacher Supply Depot?




From 1994 – 1996, one of the boards I served on was the Community Involvement Advisory Board. With lots of input from the members of the Advisory Committee, we developed a plan to locate a facility, [and] communicate our idea to businesses, the community and the media. The need from the teachers and students was so great, the Duval community embraced this project as a way to help teachers who were spending so much of their own money to help their students, and also provide so many of our students who came to school without the basic tools they needed to be successful in school. The project has grown to also give our very creative teachers resources to make their classrooms more hands-on and engaging for all students. This small idea has developed into a resource that helps all employees in the Duval County Public Schools.

What is the greatest reward for volunteering for the community?




Knowing I make the difference in the lives of students, teachers and the community we live in is my greatest reward. One does not volunteer for money or recognition. One volunteers to help others and make our community a better place for all.

What is the greatest challenge?




The greatest challenge is developing others who will work side by side with you; however, I have found if you begin a project small and keep at it as you develop successes, others will want to join you to see important work continue and grow. When undertaking a large project, no one person can be successful without the help of lots of others.

What is something you'd like the community to know about volunteering to help Duval County Public Schools?




Anyone, no matter their physical ability, can volunteer in some capacity. Each year, we see more than 21,000 volunteer hours donated by vast varieties of people with many different abilities, but all making a difference in the lives of our public school teachers and students. Our teachers describe this project as "Christmas each month," saying they just don't know what they would do without this fabulous resource our community makes possible for them through donations and volunteer service.

How has volunteering changed your perspective?




I look back over the years I have volunteered — and that goes back to 1987 when my oldest son first went to kindergarten — and can see things still today I know I had a hand in. I have seen areas of town that had been heaped in trash, graffiti and abandoned homes begin to become more vital; however, the biggest impact is when you take pride and ownership in your own community and its schools and become part of a change agent of engaged volunteers. Whatever one's interest is, there is a way to volunteer to make things better. If everyone picked up litter when they saw it, volunteered at least one day a year in a local school, helped one student do better in class, reached out to an elderly person to make their life easier and brighter, think what a great city we could build together.
Photo courtesy Chris Buckley