By Angela Higginbotham
angela@floridanewsline.com
Deborah Luke is a Jacksonville native who has served in the Duval and Clay county school systems for 43 years. She is a graduate of Englewood High School and the University of Florida. Luke has spent her career in elementary education, teaching young children within four different Duval County schools and one Clay County school. Although many of her days are still filled with educating as a substitute teacher, she retired from Duval County in 2009 and from Clay County in 2016. She and her late husband of 32 years, Donald, began calling Mandarin home 35 years ago and the two have one son, Justin. Luke was recently named Educator of the Year by the Jacksonville Elk Lodge #221, an honor that she holds dear.
Luke is an inspiration to so many, not only for her work to encourage and be a positive influence in the lives of children but also for her strength and positive outlook on life. Very recently, she lost everything in an electrical house fire, yet her joy remains.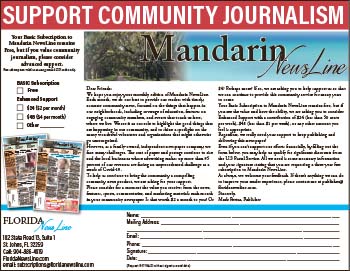 "In the blink of an eye everything can change," she said. "It's a new awakening. I lost all my treasures, but at least I'm alive and my son wasn't in the house. Life is precious and I made it through. I'm looking for a condo and looking forward to finding a new place to call home."
What do you enjoy most about living in Mandarin?
Mandarin has so much to offer. It's a calming community. I see so many former students around and I love when they come up to me.
What do you enjoy doing apart from your continued involvement in education?
I enjoy spending time with my friends, shopping and just enjoying each other's company. I was learning to play piano again. I found my old piano that I played on as a child. It was 67 years old, but I lost it in the fire. Maybe I can get another piano and play again.
What would you consider your greatest accomplishment?
Being married and taking care of my husband through his illness. Also raising our special needs son.
What do you enjoy most about your work in education?
Encouraging my kids to read and watching the contributions they make to their friends while helping each other learn to read. I did an auction to encourage people from all over the country to donate books. Jeb Bush came as an auctioneer and other celebrities joined in.
What do you think is the hardest part about being a teacher in today's school system?
Making sure that all students are on board and performing where they need to be to score their best on the big tests.
Photo courtesy Deborah Luke
Deborah Luke.