By Angela Higginbotham
angela@floridanewsline.com
Jacksonville native Jerald Jay grew up on the Northside. He received his degree in music from Florida State University. After college graduation, he moved back to his hometown and began teaching at the school his mother, a former public school teacher, began in 1983. The Little Country School is where Jay spends a great deal of time as an administrator, teacher and headmaster. Jay grew up in church and has been involved with music direction inside of churches for the past 25 years. Currently, he serves as music director at First Christian Church in Mandarin.
What do you enjoy most about working in Mandarin?
I've always enjoyed the Mandarin area. It's a beautiful area with nice people. The church is in a nice section and I've enjoyed getting to know so many of the people.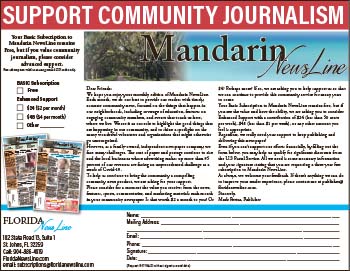 What does your work involve at First Christian Church in Mandarin?
I enjoy serving in all areas of music within the church. I direct and I sing. I've done a lot of solo work as a baritone. I also teach the hand bell choir and play both the piano and organ.
What do you enjoy doing outside of your work?
Well, I do spend the majority of my time at the school or at church. In my time off, I enjoy going down to Disney and checking out the resorts. Epcot is probably my favorite attraction.
What would you consider your greatest accomplishment thus far?
When I think about the things I'm most proud of, it would be working with kids and music together. Some of these kids may not otherwise have a chance to learn about music. I teach the hand bells as a quick way to get the kids learning and performing at school and church. I teach music in many settings and music camps.
What is something that most people don't know about you?
Most people probably don't know about my infatuation with going to Disney. It's mostly nostalgic. I enjoyed going as a child and it's fun to get those same feelings when I visit as an adult.
Photo courtesy Jerald Jay.
Jerald Jay