By Courtney Clark
mail@floridanewsline.com
Mandarin resident Pete Carpenter fell in love with the St. Johns River when he moved to Jacksonville from Kentucky in 1988. Since then, he has been on numerous boards such as the Cummer, Consol Energy, the Jacksonville Symphony Orchestra and much more. He served as president and CEO of CSX Transportation and retired in 2001. Recently he joined the St. Johns Riverkeeper Board, where he advocates for the health and restoration of the St. Johns River.
Carpenter is an outdoors and active pursuit lover. In his free time, he likes to hunt quail and pheasant, play golf, hike mountains and walk the beach. An avid political junkie, he also stays up-to-date on current affairs.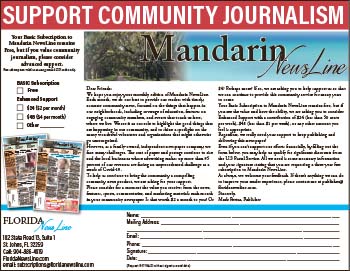 Why did you move to Jacksonville?




Jacksonville was one of my stops with the railroad. I moved to several places before ending up here, and I've probably lived here longer than I've lived anywhere in my life.




What do you love most about the city?




I fell in love with the river and the beautiful community anchored by the river. There are lots of great institutions here like the Jacksonville Symphony and the Cummer. It's been great to really watch the community grow.

How did you get involved with the St. Johns Riverkeeper?




It's another one of those great organizations that's a part of Jacksonville and it's very well led. I'd always been aware of the Riverkeeper, and I saw some presentations. I thought they were extremely well-versed and offered sensible solutions to the balance of bettering the community and making jobs while also protecting the community. They asked me to join and I've been the new boy on the block for a few months.

What are your responsibilities?




The board has generally the same responsibilities as any other board I've been part of. We sit with governments and make sure the right people are leading organizations (I'm very impressed with everyone in leadership). The board is a place where new ideas spring up, but it cannot micromanage the organization of it. We oversee how monies are spent, making sure they're spent properly. Boards as a general rule watch those things, but I've been there such a short period of time that I'm not an expert.

What do you want to tell the Jacksonville community concerning the St. Johns River?




Take care of this river. It is perhaps your greatest asset. Take care of this river.
Photo courtesy Pete Carpenter
Pete Carpenter