By Martie Thompson
editor@floridanewsline.com
Byron and Marsha Peacock have been married for 36 years and were together for seven years before that, so they say they've been a couple for 43 years — but Marsha Peacock says they actually met much earlier, when they were both elementary school students at South San Jose Elementary (now Kings Trail Elementary). "He doesn't remember me," Marsha said, "but I remember him as the only kid with a crew cut." Today, they live on a unique two-and-a-half acre parcel of land in the middle of Mandarin, perfect for these two nature lovers. They share their home with their two daughters, one an accountant at Nemours and one a junior at the University of North Florida. They are both active Rotarians with the Rotary Club of Northeast Florida.
Q: How did you begin dating?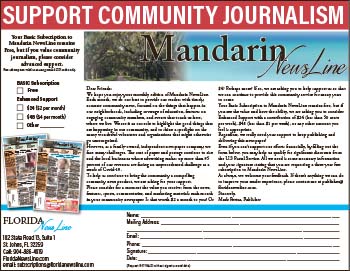 Marsha: We met for the second time at age 16, the summer before our senior year, at the bus stop for the summer school program at Mayport Marine Science Center.
Byron: She was fascinated by a slimy sea slug I had on the bus and I thought, any girl who wants to look at sea slugs is someone I could get along with! So, we began dating and dated all through college. I started off at Stetson and she went to the University of Florida, but I eventually transferred to UF. We took five years to graduate, but both earned two bachelor's degrees. [Bachelor of Science degrees in Botany and Natural Resource Conservation for her; Bachelor of Science degrees in Botany and Wildlife Ecology for him.]
Q: What was your first job?
Byron: After we graduated, we needed jobs; we said we needed someone to pay for us to walk around in the woods and identify animals and plants! I found a job with the city's bioenvironmental services.
Marsha: I took a job as a horticulturist at Regency Square Mall. But eventually I wanted to do something different, so one day I was looking at the want ads in the newspaper and saw an ad for an ecologist/botanist. It was for a brand new start up company, Environmental Services. As part of my interview I had to go in the woods with the interviewer and identify plants. I made sure that my husband came along too — and we both ended up getting hired.
Byron: The timing was perfect for this start up company. The state had just passed the Warren Henderson Act in 1984 to protect the state's wetlands and now required permits for development projects, so they needed botanists to identify plants on the properties. It was exactly the job we were looking for.
Q: What is your job now?
Byron: I had never been interested in starting my own business, but so many people encouraged me to do it. So 15 years ago I did and I have been busy all the time ever since.
Marsha: Byron and I are both Certified Professional Wetlands Scientists and while he is out in the field, I tend to work more behind the scenes in our business.
Q: Tell us about your unique home.
Marsha: I actually found this piece of property when I was working back in the '80s. It had a one acre upland island surrounded by wetlands. The entire two-and-a-half acre property was eventually sold by the developer of the nearby subdivision as an estate lot and we were able to buy it. It took five years for us to build our home as we did what we could as we saved up the money. We built our home on that high spot, far from the street and removed very few trees.
Byron: A typical home has about 10 percent windows, but ours has 25 percent windows, because we want to feel like we are living right in the woods. We see all kinds of wildlife — turkeys, barred owls, raccoons, box turtles, deer. We've even seen otters.
Q: What do you like about being a Rotarian?
Byron: We are now part of the Rotary Club of Northeast Florida and members of the Duval Dinner Team within that club. Originally we were part of a different club, but found that when we had to close the club building for six months for renovations, we liked not being part of a brick and mortar club. We'd rather spend our money on charitable service projects than maintaining a building.
Marsha: We like being able to do the service projects that Rotary is known for. Due to COVID, there have been fewer projects, but this year we have collected books for the USO, collected pet food for the Clay County Pet Shelter and collected t-shirts for Rethreaded. We have also recently been able to resume our dinner meetings, observing CDC protocols. The Duval Dinner Team of the Rotary Club of Northeast Florida meets at 6 p.m. on Tuesday evenings at the Athenian Owl on Baymeadows Road.
Photo courtesy Marsha Peacock
Byron and Marsha Peacock